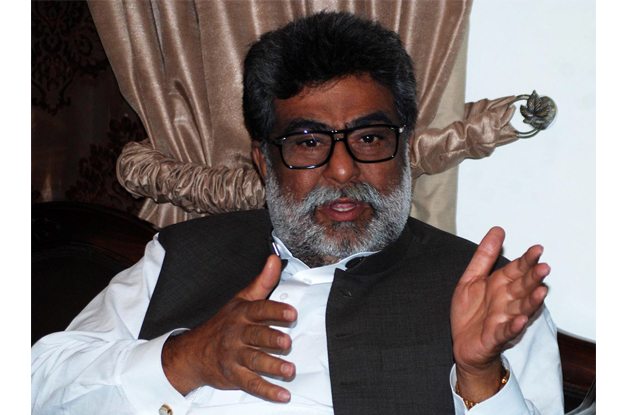 ---
ISLAMABAD: Imran Khan's PTI is contemplating another countrywide protest movement and a possible lockdown till the country's power brokers give a solemn commitment that the next polls, scheduled for 2018, will be held in a free and fair atmosphere.

A chief proponent of this idea is Yar Muhammad Rind, a former federal minister, who joined the PTI last year. Rind has been made the party's chief organiser in his native province of Balochistan. He is contesting by-polls from NA-267 Jhal Magsi, scheduled on April 28 to return to the National Assembly.

The Express Tribune interviewed Rind to determine the future programme of this Baloch Sardar, who was elected to parliament seven times before he suffered two back-to-back defeats in the 2008 and 2013 general elections.

PTI won't contest 2018 polls with current ECP, says Imran

"In 2008 my seat was stolen and given away to appease the PPP. I had never lost any election before. It was forcibly taken away from me. Whatever happens, I will not change (the mode of) my politics. I have always done politics for Pakistan and will continue to do so. Even then if someone is injust to me, they will be held responsible before the people of Pakistan and will be answerable to Allah".

According to him, 'angels' played an important role in the 2013 elections once again – in an oblique reference to intelligence agencies in deciding winners and losers in the country in general and Balochistan in particular.




"It is true that the 2013 general elections were the RO's elections. We (the PTI) have 43 members (in the National Assembly). The difference between us and the ruling PML-N is that we have come to the assemblies through vote and they (PML-N) have come by stealing the public mandate. The unfortunate thing is that we are all sitting in the same assemblies. We will not let this happen anymore," he said.

Rind said his party is not in favour of packing assemblies through any unconstitutional move but would make sure the next elections in 2018 are free and fair. To ensure this, Rind has proposed a roadmap before his party's central executive committee recently.

Imran slams ECP for 'condoning' polling staff

"Before 2018 we should have to make sure thugs do not steel the elections. We need to have our presence in every street of the country. The PTI should bring its workers on the roads three months before the polls and organise protests until it is assured that there will be no involvement of these forces in the next elections. I have proposed it before the CEC [chief election commissioner] and it is up to the party now how it implements it."

Rind claims he has offered to be the first one to go to jail and fill Balochistan's jails with PTI workers, if needed. Imran Khan has also recently hinted at launching another round of his protest movement.

"In today's situation, the thief and watchman have joined hands once again. We have to expose this nexus," he remarked.

The PTI leader has come up with a different proposal to reform the current Election Commission of Pakistan. He proposes that the parliament through another constitutional amendment should allow the senior most sitting judge of the Supreme Court to become the CEC and the senior most judges of four high courts as the ECP's members to formulate a new polls supervisory body.

When asked how his party can change the composition of the ECP given that it requires a two-third majority in parliament to bring an amendment to the Constitution, he said: "There is always room to improve the Constitution if there is any lacuna."

"We will come up with a comprehensive programme before the next elections and present it to people of Pakistan before we take to streets and get public support to implement it. We will not let our next generations remain subservient before children of Nawaz and Zardari. This would not happen anymore," he said.

Rind – who has been given the task of organising the party in Balochistan – says soon after the by-polls in his constituency, he would form an interim organisation of PTI in Balochistan followed by a membership drive. After achieving this task, he would resign as chief organiser and the party would go for intra-party polls.

He confirmed that the PTI's intra-party elections in Balochistan would suffer a delay probably till end of this year and would be held after polls in the other three provinces.

Published in The Express Tribune, March 14th, 2016.