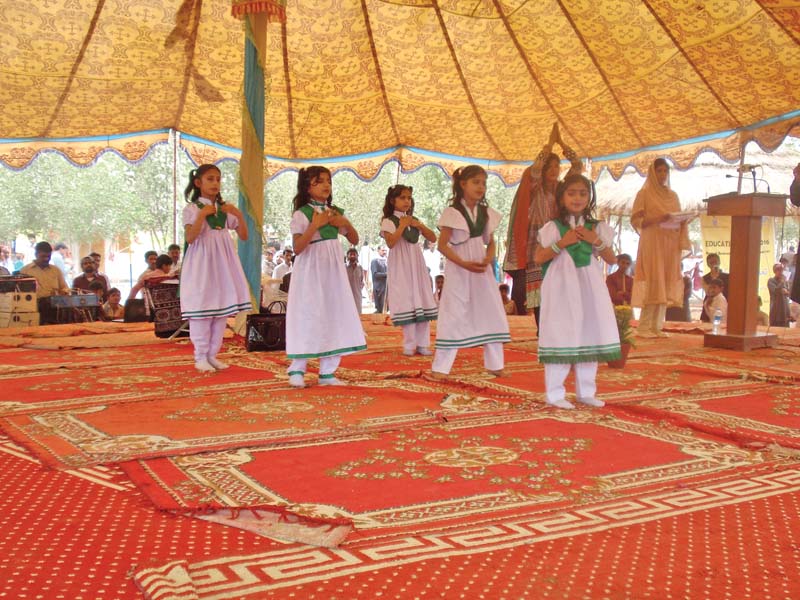 ---
SUKKUR: The government cannot do everything alone, therefore NGOs should come forward to share the responsibility, said Sindh education minister Nisar Ahmed Khuhro at an education fair in Kotdiji on Sunday.

The event, organised by the Indus Resource Centre (IRC), aimed to encourage students to take part in healthy extra-curricular activities. Khuhro appreciated the efforts of IRC for bringing revolutionary changes in the education sector, and said "No doubt health is wealth but I say education is wealth, because without education people would not be able to achieve certain goals."

Inspired by the different stalls showcasing the country's heritage and culture, the minister said such gatherings help bring people closer, as well as provide knowledge about culture and heritage. He asked the IRC to organise a similar fair in Larkana as well.

"Hospitals remain deserted when people start visiting play grounds," he explained, assuring the IRC management of full cooperation in the development of the education sector in the province.

Speaking to The Express Tribune, IRC founder and chairperson Sadiqa Salahuddin said she established the organisation on January 1, 2000 with the aim to improve the system of education in Sindh. According to her, IRC has adopted 26 primary, elementary and high schools in different districts, including Sukkur, Khairpur, Ghotki, Dadu, Pano Akil and Jamshoro. "Keeping education confined to books could prove boring for students, therefore healthy extra-curricular activities are a must," she explained.

She said a large number of students from IRC and other schools are participating in the education fair and have set up stalls where they have showcased hand embroidery, pottery, agriculture, biology, electricity models, climate change and much more. "Such events not only create a sense of participation among students but also help raise their confidence," said Salahuddin.

"Ironically nowadays our environment has become very depressing and therefore it is necessary to give some breathing space to students, who are our future," she added.

She said in IRC schools they are not particular about uniforms, rather they want students to feel at ease while studying. "We don't want to turn them into bookworms, rather it is our endeavour to make them feel relaxed about their studies," she said. We teach our students to keep their homes and neighbourhood clean, because proper cleanliness is a door to a healthy life, she explained.

According to her, what they are doing for education is very little and much more is needed to be done. Salahuddin said civil society must join hands to achieve this goal.

A large number of people, mainly women and children, participated in the day-long fair.

Published in The Express Tribune, March 14th, 2016.
COMMENTS
Comments are moderated and generally will be posted if they are on-topic and not abusive.
For more information, please see our Comments FAQ