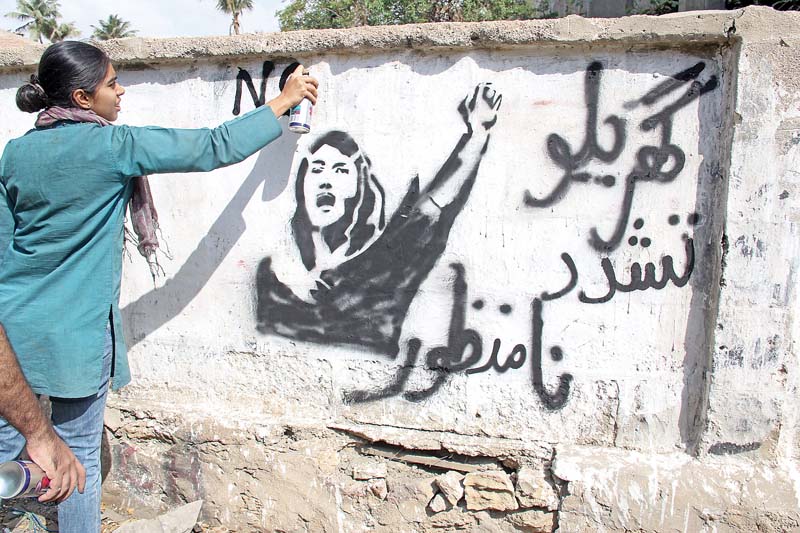 ---
KARACHI: Women hold up half the sky - this is the message some students of Karachi want to give by painting walls in the metropolis.

Members of National Students' Federation (NSF), a leftist students' political organisation, have come up with the 'Draw for Feminism' campaign to mobilise freedom for women and introduce the female perspective to the public sphere.

Differing perspectives: CII voices concerns over K-P's domestic violence bill

The five-day campaign started on International Women's Day this year and culminated on Sunday. Around 20 young men and women took to street art and painted slogans and images against domestic violence, street harassment, identity crisis, stereotypes and rape. Employing stencils and paints, the group went about raising their voice through graffiti in Gulshan-e-Iqbal, North Nazimabad, Saddar, Tower, II Chundrigarh Road, Karachi Press Club and Numaish. Talking about what drove them to initiate the campaign, NSF Karachi organiser Muzammal Afzal said until women of our society are not freed, the society cannot exist as a free entity. He said even religion is interpreted in such a way that it victimises women and limits their liberation. "We are using art on public walls of the city as a medium to spread awareness," he said.




NSF press secretary Laila Raza pointed out that female representation in the public is from very limited to nowhere. "You get to see only male perspective in public spaces while women are only but a simple existence," she said. In order to challenge this 'invisible' status of women, the organisation thought of graffiti as the medium to bring women out.

CII calls Punjab's domestic violence law 'un-Islamic'

With slogans such as 'Aurat Quaid hai' [Woman is the leader] and 'Kya yeh aap toh nahi' [Is it not you?] on images suggesting violence against women, the idea is to inspire people through walls.

"From the very early days, we have seen violence-inciting slogans and graffiti on walls," said Raza, talking about her experience at Numaish in the afternoon. "The police came to us and stopped us from painting these walls, calling them private property. The same walls have political and religious slogans, and the police and the state [do not] challenge them." She regretted the hypocrisy that hate slogans are permitted and those of peace are not. "While we are standing here painting the walls, the passers-by are noticing us [women] more than our male fellows," remarked Raza. "This itself is harassment while we are painting against it." So, how does the male perspective fit in this campaign? "We are aware that men have the privileges that women don't in our society," said Afzal. "Last year, on Women's Day, our campaign revolved around the privileges that women have. This year's drive was an extension of it." Talking about the lack of implementation of bills such as those pertaining to female harassment and protection, he said when we as males wouldn't talk about an issue like this, then how can we expect the parliament to take it seriously.


Published in The Express Tribune, March 14th, 2016.
COMMENTS (2)
Comments are moderated and generally will be posted if they are on-topic and not abusive.
For more information, please see our Comments FAQ