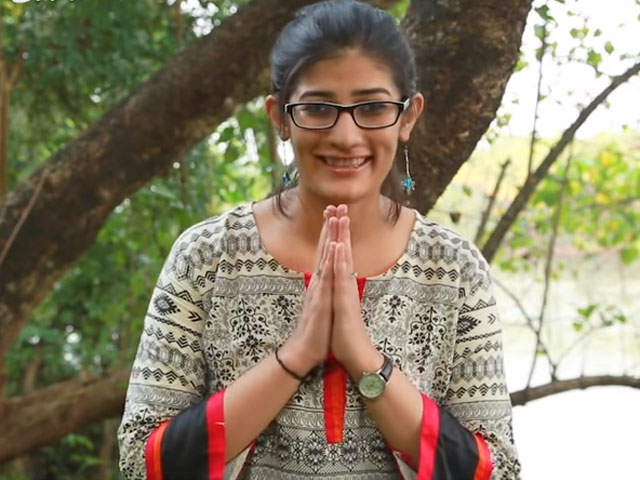 ---
Shivani Gupta, a slam poet from Delhi, pens a message to a stranger in Pakistan. Titled, Dear Girl From Pakistan, Gupta's emotionally charged and thought provoking lyrics explore the volatile relationship between arch rivals, Pakistan and India.

She starts with a simple greeting and a proclamation of her intentions. "Look, I'm not here to start a fight. I just wanted to say 'Hi.'"




Naat poetry book: Poet wins presidential award for third time

In one verse, she strikes a chord by highlighting how close we are as countries, only to debunk her claim, and show us how far we are, still.

"A bus goes from my country to yours. That's how close we are. A bus goes from my country to yours - empty. And that's how far.

"Do you ever think about what it would be like to just cross over and come over to my side?"

She then meticulously highlights how our separation and animosity have been integrated into our language.

"I'm sorry that without so much as a second thought, I say the words 'your country' and 'my side' and all that's left that's ours is a common divide. I'm sorry that even my pronouns are possessive."

Gupta extends her hand in friendship, to her neighbour across the border. She wonders out loud about how alike we might be, in terms of looks, aspirations, dreams and fears. "I wish I knew you better. What does the world look like from your eyes? Did you also play 'I-spy' as a child? What did you see? Maybe you saw the reflection of a girl who is a lot like me."

Unsung Pakistani poet honoured with a statue in India

She goes on to apologise to her neighbour for treating her "unlike the long-lost cousin that you are but as someone I wouldn't even want to know from afar."

Her poem is almost an apology in many aspects as she goes on to say sorry for taking so long to realise that there's really no reason for hatred between us. She ends her poem saying, "I know it's taken me 69 long years but I hope it's not too late for me to say 'forget about what's in the news. Tell me, how was your day?'"

The poet's message is simple - she hopes to bridge the gap between the two nations. Gupta wishes that just like her, a girl from Pakistan will disregard what she hears on the news and extend her hand in friendship, as well.


COMMENTS (16)
Comments are moderated and generally will be posted if they are on-topic and not abusive.
For more information, please see our Comments FAQ