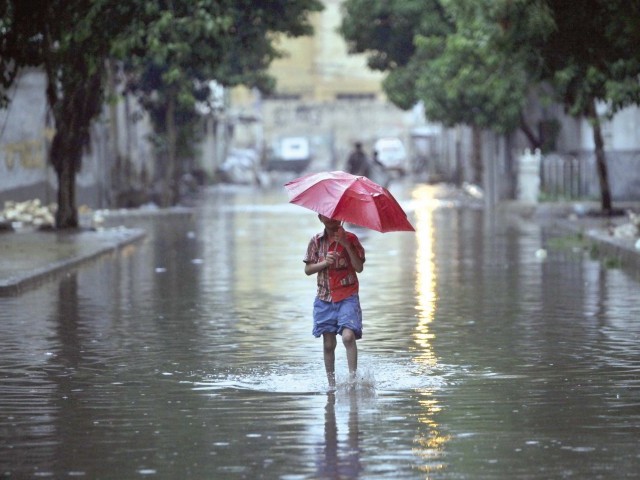 ---
KARACHI:



As unexpected rainfall approaches the city, preparations have begun to meet the possible aftermath.




Chances of rainfall on Friday morning were confirmed by the focal person of Karachi's meteorological office, Abdul Rashid. He said that dusty winds might also blow with normal rains. However, he ruled out the possibility of heavy rainfall, like the kind that happened in the United Arab Emirates (UAE). "The system from UAE will affect more of Balochistan's areas," he said.

It's raining cats and dogs in Dubai and no one can handle it

According to the Pakistan Meteorological Department, Karachi will experience intermittent light rain throughout the day on Friday. The metropolis is expected to experience partly cloudy weather with wind speed of up to 25 knots. The rainy weather is expected to last till Saturday.

Commissioner Asif Hyder Shah has, however, alerted all the municipal departments, including all deputy commissioners, administrators of all the district municipal corporations (DMCs), cantonment boards, Provincial Disaster Management Authority, Pakistan Navy and Karachi Water and Sewerage Board (KWSB) during a high-level meeting on Thursday and asked them to take immediate precautionary measures ahead of the rains.

KMC's plan

In view of the rain forecast, Karachi Metropolitan Corporation (KMC) administrator Roshan Ali Shaikh has declared a state of emergency, which will continue till the rains end and the situation becomes normal.

According to Shaikh, they will ensure continuous coordination with all the DMCs and the KWSB so that the drainage of rainwater can be carried out effectively. He asked the citizens to register any complaints regarding accumulation of rainwater on the streets or any other emergency condition on the toll-free number 1339.

K-P on high alert as heavy rain on the horizon

Meanwhile, KMC municipal department senior director Masood Alam told The Express Tribune that the department was ready to deal with any rain-related problems. He added that the KMC has established rain emergency centres in every district, which would work round-the-clock.

In case if it rains heavily like it did in Dubai, he said that they have evacuation plans. "Residents of low-lying areas, such as Ibrahim Hyderi and Mubarak Village, will be evacuated and shifted to public schools," he said, adding that they have already deployed their grab cranes to clear all the choking points in their rain drains.

Talking about billboards, he said that they now come under the DMCs and the commissioner has asked all the DMCs to monitor the heavy billboards in their jurisdictions.

Parts of Karachi plunge into darkness as city receives first monsoon rain

KMC machine pool depot additional director Azhar Ahmed Khan explained that they have five points from Sharae Faisal to the Airport, where their machineries will be deployed to remove the rainwater. Apart from these points, he said their pumps have already been installed at all the underpasses of KMC to drain the rainwater.

Utilities' plan

Meanwhile, KWSB technical services deputy managing director Iftikhar Ahmed Khan told The Express Tribune that their precautionary measures were being implemented on daily basis and not just during the rains. He said that KWSB's sewage lines carry domestic waste and if rainwater starts flowing into these lines, they can get choked.

"We have covered all our manholes," he claimed, adding that the KWSB has also stored diesel for its pumps in case of prolonged power breakdown.

K-Electric's (KE) spokesperson said that four of their regional control centres, which cover the entire city, were active round-the-clock. He requested the public to use electric appliances carefully and advised them against going close to the KE's installations.

Cantonments' plan

Cantonment Board Clifton's (CBC) spokesperson Amir Arab said that they have also deployed their machinery on all their main choking points. As for the billboards in their area, CBC revenue superintendent Faisal Khan Jadoon said that they have asked all the advertisers to remove the skins of the billboards.

Balochistan Downpour: Rain brings joy in plains, woes in cities

Meanwhile, Defence Housing Authority's (DHA) spokesperson, Major Aurangzeb, said that they, too, have established rain emergency centres at the head office and several other locations. All the rain drains are controlled by the CBC but the DHA supports in cleaning those, he said.

Rain, thunderstorms expected in Lahore

Rain and thunderstorms are expected in most parts of the province during the next four days.

According to the Met Office, widespread rains with strong winds are expected in upper Punjab, including Rawalpindi, Sargodha, Faisalabad, Lahore, Sahiwal and Gujranwala.

Isolated heavy rains are expected in Quetta, Zhob, Kalat, Sibbi, Naseerabad Hazara divisions and Kashmir. Scattered rain and thunderstorms are likely in Bahawalpur, Multan and DG Khan.

A shallow westerly wave was affecting upper parts of Balochistan and was likely to persist till Friday.

Published in The Express Tribune, March 11th, 2016.
COMMENTS
Comments are moderated and generally will be posted if they are on-topic and not abusive.
For more information, please see our Comments FAQ