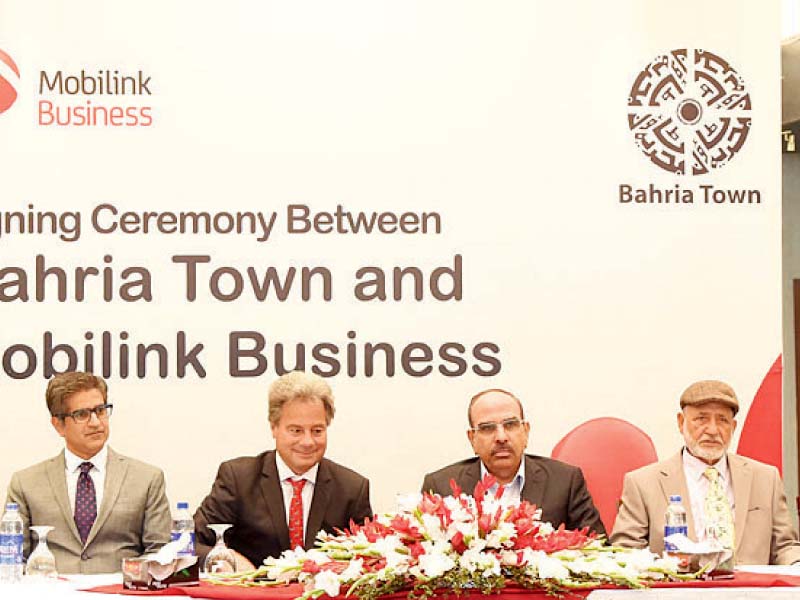 ---
ISLAMABAD: One of the country's leading real-estate developers and a mobile phone operator reached an understanding to collaborate with each other, here on Tuesday.

Bahria Town and Mobilink signed a memorandum of understanding (MoU) to launch a digital mobile financial services platform for the residents and clients of the real-estate developer.

Bahria Town makes a splash with foray into media

Bahria Town Chairperson Malik Riaz and Mobilink Pakistan President Jeffrey Hedberg signed the memorandum on behalf of their respective organisations.

"This partnership is in line with the real-estate developer's goal of digital transformation under its ICT-based smart city initiative," said a press release.

Hedberg said, "This partnership is the first step towards a digital evolution, as it provides Bahria Town with the most robust digital financial services platform for transactions on Mobilink's resilient 3G and fixed data networks."

The mobile operator's top executive further said that the platform would be extended for other communications through their M2M, IOT (internet of things) and sensors offerings for full-scale smart city deployments.

Under the agreement, Bahria Town will use Mobilink's digital platform for financially interconnecting its residents and clients.

The facility will cover business-to-business, business-to-clients and business-to-public services.  Initially, these services will include all kinds of utilities and maintenance payments, salary disbursements and payments to other service providers and contractors.

"We will be utilising Mobilink's Digital Financial Services platform to initiate outbound and inbound transactions. In the next phase, we plan to use it for financial transfers between all our service providers, be it schools, hospitals or maintenance services", said Riaz. He further said that the agreement showcased their resolve to develop smart cities through digital transformation of all services.

Bahria Town all set to enter media

Riaz added that the reason to choose Mobilink as partner was based on the surety that its digital platform was robust. Mobilink Business Development Director Ali Kamran said, "Mobilink and Bahria Town are forging a relationship, which will lead Pakistan into the real digital age."

Published in The Express Tribune, March 9th, 2016.