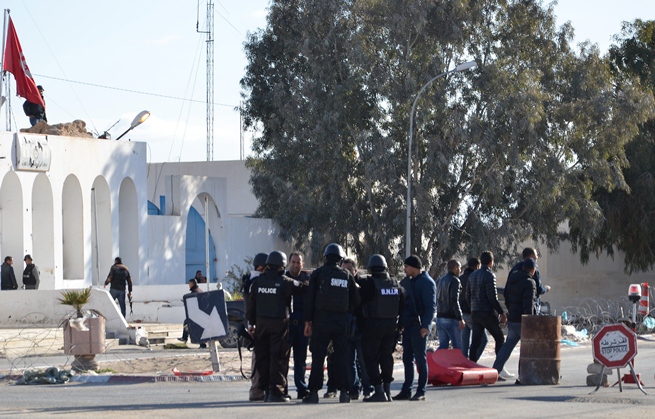 ---
BEN GUERDANE, TUNISIA: Tunisian forces fought off fierce attacks from extremists near the Libyan border on Monday, killing 35 in clashes that also left seven civilians dead.

Ten members of the security forces were killed in the fighting in the border town of Ben Guerdane, which President Beji Caid Essebsi condemned as an "unprecedented" extremist attack.

It prompted authorities to close the frontier and order a night-time curfew.

In statements broadcast on state television, Essebsi said the assault was "maybe aimed at controlling" the border region with Libya, and he vowed to "exterminate these rats".

It was the second deadly clash in the border area in less than a week as Tunisia battles to prevent the large number of its nationals who have joined the Islamic State (IS) extremist group in Libya from returning to carry out attacks at home.

The extremists have taken advantage of a power vacuum since the NATO-backed overthrow of long-time dictator Muammar Qaddafi in 2011 to set up bases in several areas of Libya, including the Sabratha area between Tripoli and the Tunisian border.

The government said that an army barracks and police and National Guard posts in Ben Guerdane came under attack in coordinated pre-dawn assaults.

The defence ministry said at least 35 extremists, six members of the National Guard, two policemen, a customs official and a soldier died in the fighting, the defence ministry said. Seven civilians were also killed.

Seven militants were captured, the defence ministry said.

Tunisia troops kill four suspected militants

Hospital official Abdelkrim Chafroud said a 12-year-old boy was among the dead civilians.

An AFP correspondent reported that schools and offices in Ben Guerdane were closed and troops were posted on rooftops across town.

Residents were being urged to stay indoors even before the 7:00 pm (1800 GMT) start of the night-time curfew.

As well as closing border crossings with Libya, authorities also closed the main road north to the rest of Tunisia, the correspondent said.

Authorities said ground and air patrols along the border would be reinforced.

Prime Minister Habib Essid, who will hold a press conference on Tuesday, ordered the defence and interior ministers to Ben Guerdane to oversee operations against the extremists.

Last Wednesday, troops killed five militants in a fire-fight outside the town in which a civilian was also killed and a commander wounded.

Troops have been on alert in the border area following reports that militants had been slipping across since a US air strike on an IS training camp in Libya on February 18 killed dozens of Tunisian militants.

At least four of the five militants killed in last week's fire-fight were Tunisians who had entered from Libya in a bid to carry out attacks in their homeland, the interior ministry said.

"Suspicious movements had been reported since the Sabratha strike and there was a feeling that IS was looking for revenge," said Hamza Meddeb, a researcher for the Carnegie Middle East Centre.

Italy agrees to let anti-Islamic State drones depart from Sicily

Deadly attacks by IS on foreign holidaymakers last year, which dealt a devastating blow to Tunisia's tourism industry, are believed to have been planned from Libya.

Tunisia has built a 200-kilometre (125-mile) barrier that stretches about half the length of its border with Libya in an attempt to stop militants infiltrating.

February's US strike on the IS training camp outside Sabratha targeted the suspected mastermind of two of last year's attacks, Noureddine Chouchane.

Washington has said Chouchane was likely among the dozens of militants killed, and that the strike probably averted a mass shooting or similar attack in Tunisia.

Western governments have been increasingly alarmed by the growing IS presence in Libya just 300 kilometres (185 miles) across the Mediterranean from Europe, and have made contingency plans for intensified military action.

Rival administrations which have vied for power since mid-2014 in Libya are being urged to sign up to a UN-brokered national unity government to facilitate the fight against the extremists.

US air raid 'likely' kills IS operative in Libya: US official

Handfuls of US, British and French special forces have already been reported in Libya.

A contingent of around 50 Italians is about to join them, Il Corriere della Sera newspaper reported last Thursday, citing a classified order signed by Prime Minister Matteo Renzi in February.

Britain announced last week that it was sending a team of around 20 soldiers to Tunisia to train troops patrolling the border with Libya.

Thirty Britons were among 38 foreign holidaymakers killed in a gun and grenade attack on a beach resort near the Tunisian city of Sousse last June.

And last March, extremist gunmen killed 21 tourists and a policeman at the National Bardo Museum in Tunis.

According to a UN working group on the use of mercenaries, more than 5,000 Tunisians have travelled abroad to join extremist groups, many of them in Libya.
COMMENTS
Comments are moderated and generally will be posted if they are on-topic and not abusive.
For more information, please see our Comments FAQ