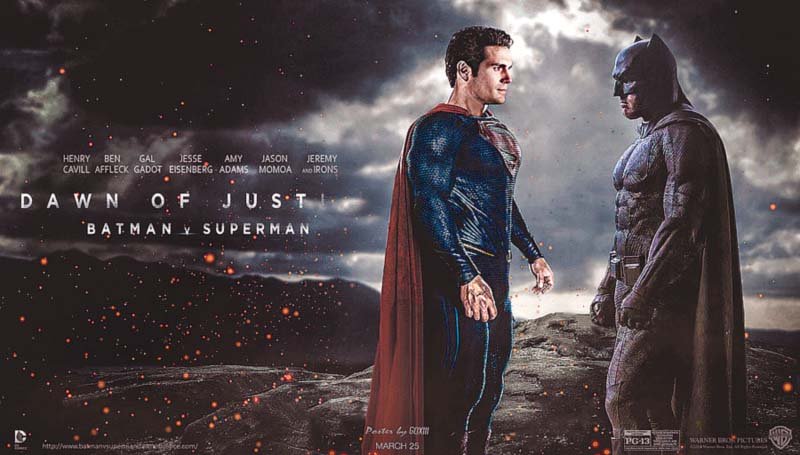 ---


The ultimate question for ardent DC Comics fans is not: Who's stronger among Superman and Batman, or who's faster? Because obviously, Superman wins both cases. He can fly, shoot heat rays from his pupils, scan through solid concrete, and is virtually invincible against bullets. Basically, Superman possesses the potential to beat Batman in just about every capacity. Some would say he's even better looking, or more of a gentleman for that matter.




The real question here is, which of these super heroes would win in a fight? In this case, not-so-surprisingly, the caped vigilante with the strange voice evens the score. According to Entertainment Weekly, the odds are in Batman's favour because he always thinks and plans ahead. Instead of pulling out all the guns and blindly throwing punches in the air, the Bat studies, analyzes, does his bit of research and then proceeds to devising a cunning plan. Finally, he steps into the arena to fight his opponent.

In the upcoming Batman v Superman: Dawn of Justice, the Dark Knight is frequently seen strategising and carefully calculating moves.  However, it wasn't only on screen that all the strategising and clever planning was taking place. DC Comics in collaboration with Warner Brothers Entertainment have used the upcoming movie as a platform for a greater interlinked universe. As many fans may have already predicted, if the $250 million superhero showdown succeeds, it will set the foundation for at least 10 other DC movies, or perhaps more in the future.

'Zootopia' sets record opening for Disney Animation Studios

That's no secret actually, because some of these movies are either ready to hit the screens or have preparations under way. For instance, Suicide Squad featuring Jared Leto, Will Smith and Margot Robbie already has fans anticipating its release on August 5, Justice League Part One will sizzle screens on April 11, and Gal Gadot is currently shooting for Wonder Woman, which is also expected to be a massive blockbuster.

Zack Snyder, who also directed 2013's Man of Steel, is a key figure in the forthcoming avalanche of DC movies. He's either directing or producing all of them along with his wife and production partner Deborah Snyder, according to Entertainment Weekly. As one of the principal engineers of the DC universe, Snyder said, "We started by building little pieces in Man of Steel. For instance, in the climax of that movie, there are pieces of a downed Wayne Enterprises satellite that crash down on the Metropolis over a skyscraper with a LexCorp logo." He added that it is essential to nudge the audience along as the movie slate progresses, and that every single movie in some way or the other shows a subtle connection to the next, or to its predecessor.

All eyes on 'Deadpool' as 'Sanam Teri Kasam' fails at the box office

As impossible as the idea may have sounded when it was initially revealed, it looks like DC is making it all happen by bringing every superhero together into one universe for a bigger bang.

Published in The Express Tribune, March 8th, 2016.

Like Life & Style on Facebook, follow @ETLifeandStyle on Twitter for the latest in fashion, gossip and entertainment.
COMMENTS
Comments are moderated and generally will be posted if they are on-topic and not abusive.
For more information, please see our Comments FAQ