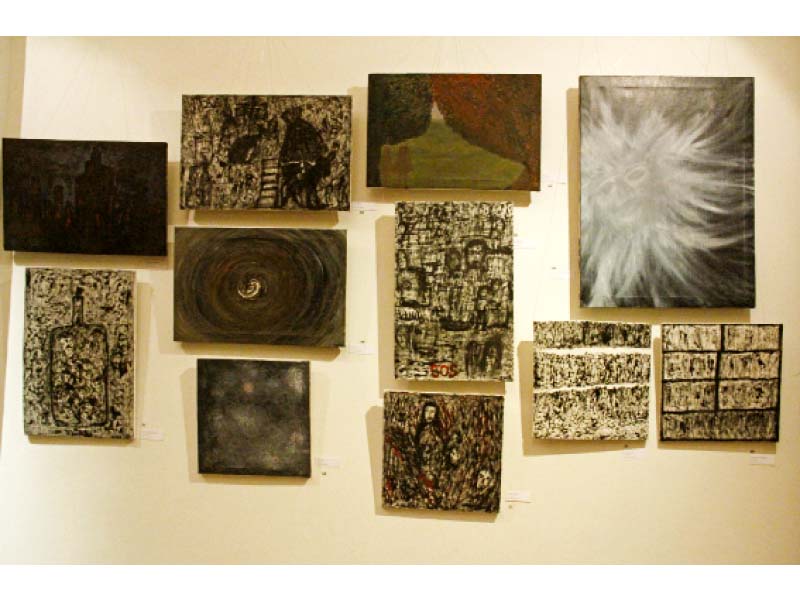 ---
KARACHI: The Second Floor has opened its door to viewers to experience the divine connection in the works of Salman Soofi.

The exhibition, titled 'Seeing through Closed Eyes', showcases 60 oil on canvas paintings and opened on Friday evening.

The paintings are a combination of abstractness and definiteness. The artist claims that his paintings turn out to be the opposite of what he plans.

Young artists put up debut exhibition

"I have got a lot of concepts in my mind. So when I start painting, I end up making something entirely different than what I had planned," said Soofi while speaking to The Express Tribune. "I unintentionally peek into my subconscious to transfer divine messages on the canvas," reads the abstract by Soofi.

Speaking about one of his paintings, he said that he was painting traffic lights but ended up painting faces. "I swear they [the faces] appeared on their own. I just had to fix three out of the 29 and the rest were created on their own," he claimed.

"I don't make drawing room art," he said, adding that he frequently uses his fingers to paint and create the desired effect. His paintings address social issues such as starvation, suffering of the poor, alcoholism and anguish of wars. Through his works, he encourages people to fight oppression and seek justice.

He has endeavoured to bring harmony by depicting glimpses of nature in minimalistic style. The combination of the social issues and nature seem to depict the transition from darkness into light.

For instance, paintings titled 'Future', 'War' and 'Abortion' are overpowered by elements of gloom and darkness. However, other paintings, titled 'Hills', 'Seascape' and 'Field', are blasted with colourful and bright imagery.

"I have experimented with a minimalist style in my paintings of nature. While the ones that appear bleak depict social significance and philosophy," claimed Soofi while explaining the themes behind his works.

Right to learn: Roshni toh tum bhi ho - A photography show

His individual paintings also depict similar ideas and function as pieces of the same puzzle. Two paintings, titled 'Beginning' and 'Source', seem to be an extension of one another. While, 'Sinner' and 'Abortion' have been depicted using similar colour and encompass certain darkness.

Emphasising on the element of darkness in his works, Soofi said that it strikes a chord with his personal experiences. "I have lived in Dubai for almost 28 years. As opposed to the luxurious lifestyle of Dubai, I found the reality of [South] Asian labourers very grave. They are living in a worse condition than slaves."

Today is the last day of the exhibition.

Published in The Express Tribune, March 6th, 2016.
COMMENTS
Comments are moderated and generally will be posted if they are on-topic and not abusive.
For more information, please see our Comments FAQ