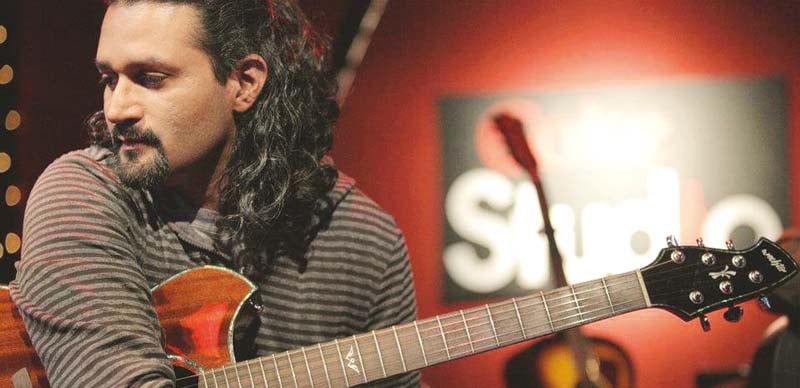 ---
KARACHI:



Even before he stepped into the spotlight as the rhythm guitarist for Qayaas and lead guitarist for Atif Aslam's band, Sarmad Ghafoor got his first taste of success as a music producer.




For an artiste who has been around for a while now, Ghafoor has kept an unusually low profile. Despite being a common denominator with some of the most revered musical acts in the country such as the aforementioned and most recently, Khumariyaan, not much is known about the musician-turned-music producer.

The year 2015 may have changed all of that when Ghafoor went on to become part of several noteworthy projects, which enhanced his reputation as a respected composer. Having started off the calendar year with contributions to the soundtrack of Jalaibee, he went on to work on a range of productions, including Uzair Jaswal's Sajna, before wrapping up the year with his magnum opus, the critically-acclaimed Tamasha.

Song of the year – Tamasha

Recalling his experience of working on the successful Khumariyaan song, Ghafoor accredits the band for the most part. "We had an initial rabab tune and Sparlay [Rawail] was the one giving the most input. Fortunately, they were open to ideas so I made the recommendation of incorporating more guitars to which the band agreed," the former Qayaas member tells The Express Tribune.




What further helped the music producer's cause was the fact that all of the musicians involved on the single, hailed from Sarmad Ghafoor's hometown, Peshawar. "I think a major reason why we were able to grab the right feel was because all of us were on the same wavelength … because of which we were able to add more of a Peshawar-feel to Tamasha," muses the guitarist.

Even though Ghafoor has spent the majority of his career mentoring and producing for emerging artistes, working on Tamasha was a refreshingly different experience for him.

Drawing parallels to his stint on Coke Studio nearly four years ago — alongside his former band Qayaas and frequent collaborator Aslam — he noted how they were successfully able to give a modern feel to a classic qawwali such as Charkha Nolakha. "You can say that we've done something similar to Tamasha as well."

The experience of working alongside Rohail Hyatt was one that Ghafoor believes made him a better producer, with the results becoming evident in his latest work. "He is someone I've always looked up to. Not just musically … I had different conversations with him and got to learn a lot about the psychology of listeners and philosophy of music just through those interactions," he proclaims.

As the film industry shows signs of improvement, many local musicians and producers have been offered a lifeline. Not a stranger to composing for film, having already contributed to movies such as Bol and Jalaibee, Ghafoor believes the transition was quite organic for him. "I have played for Atif before so I have an idea about film and Bollywood music," explains Ghafoor.

Highlighting the fact that the industry is still in its embryonic years, he feels that having no set template on how to go about making music would also benefit local producers, giving them more of a leeway and room for experimentation.

The former Qayaas members may be doing well in their own respective areas of interest; fans are still yearning for a Qayaas reunion. Ruling out chances of a possible comeback, Ghafoor states that it had become increasingly unlikely given Jaswal's success as an independent vocalist. "I had left Qayaas a long time back, plus Umair has made a name for himself as a solo act as well. So it is very difficult."

For now Ghafoor is concentrating on expanding his portfolio as he continues to work with new acts like Sarkash and Abdullah Qureshi, to name a few, apart from composing for yet another film in the near future.

Published in The Express Tribune, March 5th, 2016.

Like Life & Style on Facebook, follow @ETLifeandStyle on Twitter for the latest in fashion, gossip and entertainment.

 
COMMENTS
Comments are moderated and generally will be posted if they are on-topic and not abusive.
For more information, please see our Comments FAQ