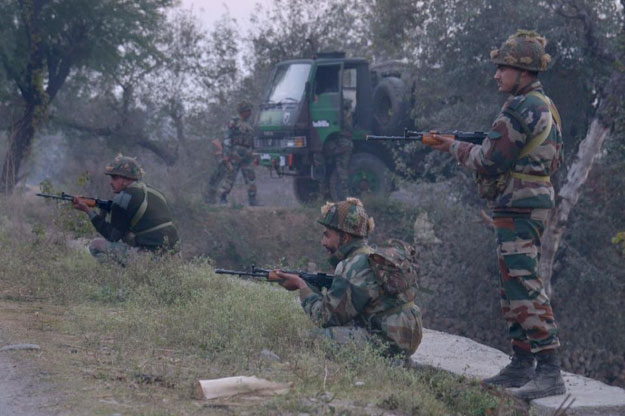 ---
ISLAMABAD:



Pakistan termed on Thursday India's latest allegations against Pakistan over the Pathankot airbase attack as 'unfortunate and unhelpful'.




"Pakistan strongly condemned the Pathankot terrorist attack and Prime Minister Nawaz called and assured his Indian counterpart of all-out cooperation soon after the incident," Foreign Office spokesperson Nafees Zakaria told reporters at his weekly news briefing.

Pathankot attack: India says mere FIR won't help Pakistan

"Pakistan took all necessary measures on the basis of preliminary information provided by India regarding the attack," he said, adding that a joint investigation team (JIT) had been formed and modalities were being worked out for its visit to India.

"Cooperation and understanding is the need of the hour. Blame games are unfortunate and unhelpful," the spokesman stressed.

Zakaria's reaction came in response to a statement by India's defence minister earlier this week in which he accused Pakistan's authorities of being complicit in the Pathankot attack.

New Delhi had previously accused Pakistan-based Jaish-e-Mohammad (JeM) of masterminding the attack which left seven Indian security officials and one civilian dead and avoided pointing fingers at Pakistan or its institutions. But India's defence minister told the country's parliament on Tuesday that the deadly assault could not have been carried out without 'state support'.




Asked to comment on New Delhi's move to link the planned foreign secretaries' meeting with action against the perpetrators of the airbase attack, Zakaria brought up the Indian high commissioner's statement that the talks were not linked to the Pathankot investigation.

The high commissioner last month denied that the resumption of talks between Islamabad and New Delhi was linked to progress in the investigation. "I would not say that," was Gautam Bambawale's reply when asked if the foreign secretary-level talks were conditional to the outcome of the probe being carried out by Pakistani authorities.

Punjab forms JIT to examine leads in Pathankot attack

But on Wednesday, India's Foreign Secretary S Jaishankar said action against the perpetrators of Pathankot attack would take priority over talks with Pakistan. "In the aftermath of a terror attack, if you ask me what we give priority to, a terrorist attack or a diplomatic dialogue, I think the answer should be obvious," he had said.

"The two sides are working on the dates of the foreign secretary-level talks," Zakria said at his weekly briefing.

According to sources, however, the talks will take place after the visit of Pakistani investigators to India, which is expected sometime later this month. Press Trust of India on Thursday reported that New Delhi has asked Islamabad to inform it of the investigator's visit at least five days in advance.

Pakistan's participation in World T20

Despite uncertainty surrounding Pakistan's participation in the World T20 in India after the Himachal Pradesh chief minister refused to provide security to its cricket squad, Zakria said the team will visit India.

"Pakistan strongly believes in people-to-people contact. Sports afford an opportunity to that end. Pakistan's cricket team will participate in the T20 World Cup and it is the responsibility of the Indian government to provide them security," he told reporters.



Published in The Express Tribune, March 4th, 2016.
COMMENTS (2)
Comments are moderated and generally will be posted if they are on-topic and not abusive.
For more information, please see our Comments FAQ