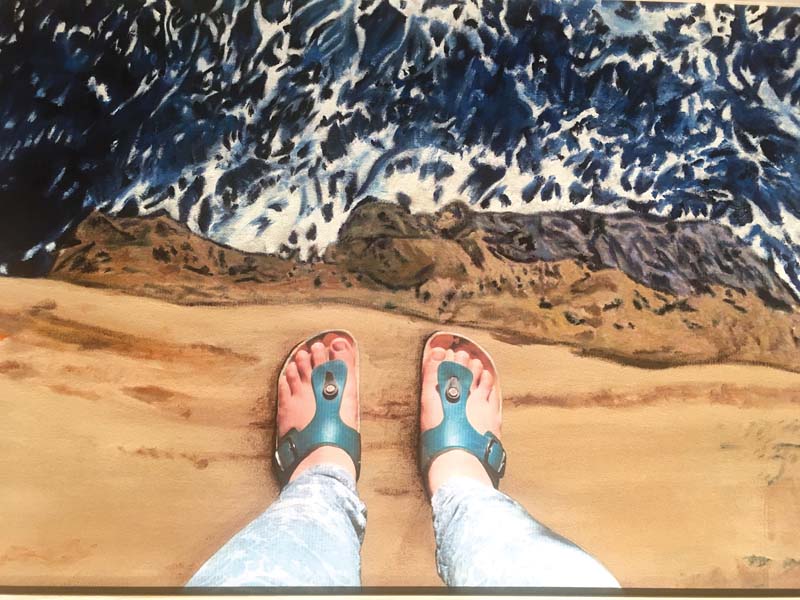 ---
ISLAMABAD: The 2016 graduates of National College of Arts (NCA) displayed some of their best works at My Art World on Thursday.

The exhibition features acrylic on canvas, oil on wood, digital prints, mixed media, goache on wasli and various other mediums to show inspirations of the young artists.

The group show featured the works of Ammama Malik, Tamkeen Khokhar, Waheed Bhutto, Mir Dostak, Bushra Ayub, Usman Khalid, Arzoo Sheikh, Ayeza Ashraf and Mohammad Irtaza.

Speaking to The Express Tribune, Usman Khalid, one of the artists, said that his work had a very deep inspiration. "A few years ago I went on a long walk some 16,000 feet above sea level. During those three hours we experienced a landslide and it was an experience that has deeply affected me. We had to walk through it to reach our destination. I have experienced something very different about nature and those feelings have been in my sub conscious ever since. Those feelings started coming out later and that is when I translated them on the canvas and produced these works," he said.

When asked why he used colours like black and charcoal, which do not appeal the masses, Khalid said that for an artist, it was important to produce what appeals him. The experience was so intense that nothing darker than these colours could depict it, he said.

Bushra Ayub said that majority of her work was process based and a replication of wrinkles in cloth. "I get majorly inspired by using various fabrics and my work essentially narrates the softness and strength of woven fabric," she added. Ayub further told that she tries to transform historical moments, she has experienced, in her artwork.

Mohammad Irtaza told The Express Tribune that even though art was a form of expression for him, he also believes that art was a way to highlight certain principles and narratives. "I have tried to use my artwork to build social narratives and I feel like I will continue to do so because I cannot be indifferent to what is happening to the society around me," he said.

Tamkeen Khokhar said that her work concentrates on her emphasis on the norms of her surroundings that deeply oppressed her from inside previously. "My artwork is a means of breaking free from the standards and norms set by the society," she said.




My Art World Director Zainab Omar said that it was always nice to host young graduates and encourage them because they really need a platform. "It is so inspiring to see their work that shows how diverse their talent is. It is absolutely beautiful to see how these young students and fresh graduates translate what they have learnt over the years and their inspiration on the canvas," she said.

Curator Zara Sajid said that beauty of the exhibition lies in the fact that it brings together artists from all across the country since the selection weaves together various stories from Sindh, Balochistan, Gilgit Baltistan, Khyber Pakhtunkhwa and Punjab.

The most inspiring thing about the exhibit was how all the artists had their own inspirations and strong beliefs that were apparent in their artwork.

Published in The Express Tribune, March 4th, 2016.