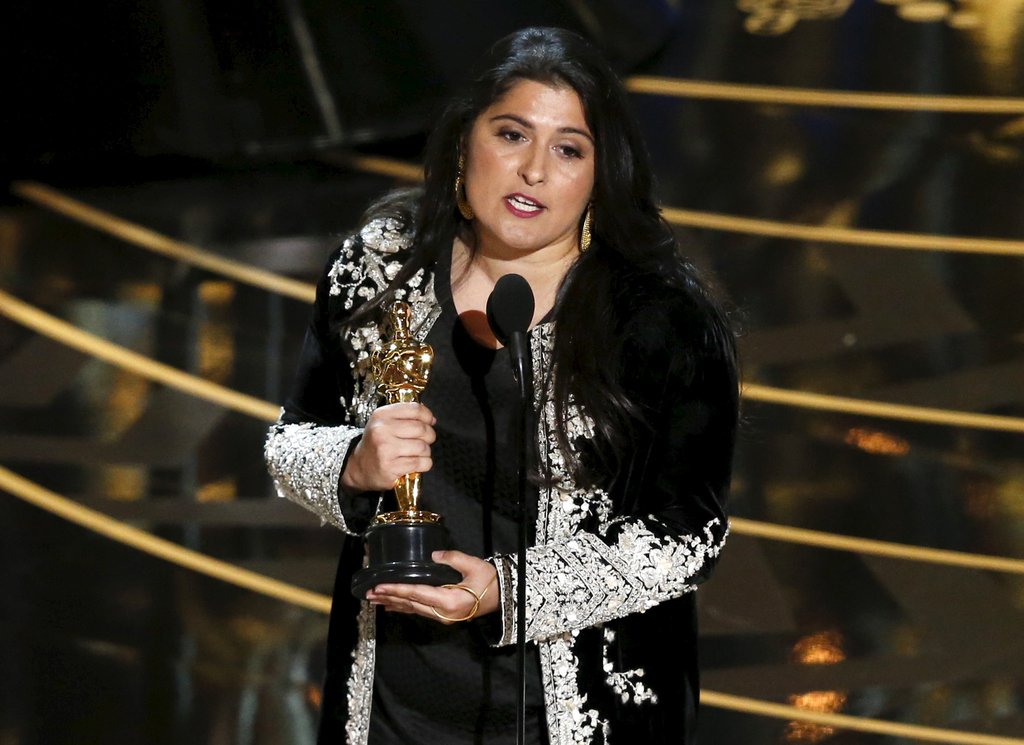 ---
Sharmeen Obaid-Chinoy on Sunday became the first Pakistani to win two Oscar awards.

Sharmeen won in the Best Documentary Short Subject for A Girl In The River: The Price of Forgiveness in the 88th Academy awards. The documentary which sheds light on honour killings in Pakistan follows the story of a teenage girl shot in the face by her own family.

"This is what happens when determined women get together," she said as she accepted the golden statuette.

Honour killing issue would gain traction if film wins Oscar: Sharmeen Obaid

Chinoy in her speech praised "all the brave men out there, like my father and my husband, who push women to go to school and work and who want a more just society for women."

The filmmaker also took to Facebook to announce, "‪Pakistan‬, we just won our 2nd Oscar!!"



In 2012, Obaid made history as she won the Academy Award for her documentary Saving Face at the 84th Annual Academy Awards in 2012, Pakistan's first Oscar.

Sharmeen Obaid-Chinoy mingles with Hollywood bigwigs at Oscar luncheon

After meeting Chinoy recently in Islamabad, Sharif in a statement vowed to "rid Pakistan of this evil by bringing in appropriate legislation."

She earlier told AFP that a victory at the Oscars would build momentum for change.

"I think if the film were to win an Academy Award, then the issue of honour killing, which doesn't just affect women in Pakistan but affects women around the world, would really gain traction," she said.

A Girl in the River tells the story of 19-year-old Saba who was beaten, shot and thrown into the river after she ran off to marry her fiance, whom her family initially accepted — and then decided was too poor.

Survivors of honour killings are rare and the film offers a stark look at the pain — physical and emotional — inflicted on Saba, her extraordinary resilience and ultimate failure to see her father and uncle convicted.

They beat her, shot her in the face and dumped her in a burlap sack in the river.

At the last moment, she tilted her head, meaning the bullet grazed her cheek instead of shattering her skull. Somehow she managed to cling to the bushes and pull herself out of the water. She went to police and to hospital.

Sharmeen Obaid's 'A Girl in the River' to be screened at PM House on Monday

Sharmeen, who read about her ordeal one morning in the newspaper, tracked her down and filmed Saba's story over eight to nine months in 2014.

In Pakistan, a loophole in the law allows the perpetrators of so-called honour killings to get off scot-free if they are pardoned by their family.

Saba initially seeks a conviction, but eventually relents under the weight of pressure from her brother-in-law and community elders who say it is better to resolve enmity than let it fester. Sharmeen wants to change that.

Prime Minister Nawaz Sharif hosted a screening of the film in Islamabad last week and has promised to rid Pakistan of the crime by tightening up the legislation.

Many took to Twitter to congratulate the filmmaker:


@sharmeenochinoy congratulions on your second Oscar.You do us proud

— Azmi Shabana (@AzmiShabana) February 29, 2016
Oh, the power of film--and of the courage of the young woman in it who fought back after a would-be "honor killing" https://t.co/xeAComZvNh

— Nicholas Kristof (@NickKristof) February 29, 2016
Congrats @sharmeenochinoy, Pakistani-Canadian filmmaker, for winning #Oscar for A Girl in the River: The Price of Forgiveness documentary.

— Mélanie Joly (@melaniejoly) February 29, 2016
Congrats Sharmeen Obaid-Chinoy for winning BEST DOCUMENTARY SHORT. Interview earlier on. #HBOAsiaOscars16 #Oscars pic.twitter.com/htO9E4hq5o

— HBO Asia (@HBOAsia) February 29, 2016
She did it! Oscar #2 for @sharmeenochinoy & #Pakistan. There is no honour in killing #girlintheriver pic.twitter.com/DDmNWYwhQv

— Saima Mohsin (@SaimaMohsin) February 29, 2016


PM felicitates Sharmeen over Oscar win

Meanwhile, the prime minister congratulated Sharmeen for winning the award.

According to a statement, the prime minister while lauding the efforts of Obaid-Chinoy said "there is no place for killing in the name of honour in Islam."

The PM said his government was in the process of legislating to stop such brutal and inhumane acts in the name of honour.



"Women like Sharmeen Obaid-Chinoy are not only a pride for the Pakistani nation but are also a significant source of contribution towards the march of civilisation in the world," he added.
COMMENTS (50)
Comments are moderated and generally will be posted if they are on-topic and not abusive.
For more information, please see our Comments FAQ