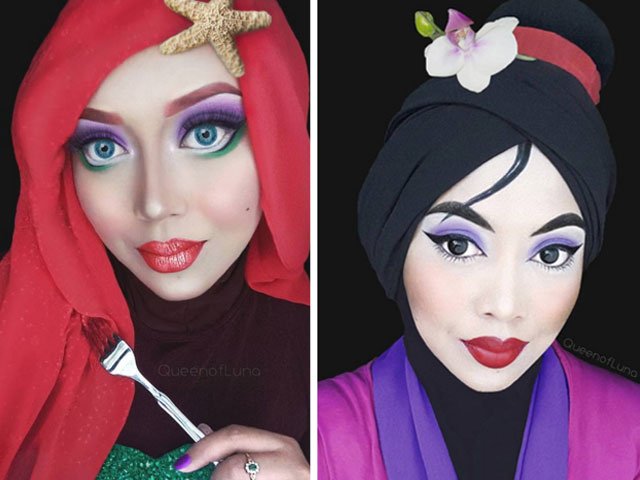 ---
Malaysian make-up artist Saraswati, uses her collection of hijabs and make-up (heaps of it, to be precise) to transform herself into Disney princesses.

Saraswati posts her transformations on Instagram under the handle, Queenofluna. With nearly 52,000 followers on Instagram, we'd say she's caught the public's eye with her stunning metamorphosis.

Introducing the new 'hijab-wearing' Barbie

Here she is as Princess Ariel from The Little Mermaid:




Mulan from Mulan:




Princess Jasmine from Alladin:




Muslim girl dreams of becoming first hijab-wearing ballerina

But Saraswati doesn't limit herself to just Disney princesses. She does comic book characters and even does her own take on "twisted" Disney princesses.

Warning: They're not pretty -- they're pretty scary.

https://www.instagram.com/p/BAdzN2FHZkl/

Cruella de Vil from 100 Dalmations: (If you haven't already noticed, she matches her hijab to the hair colour of the characters).




Not just Alice from Alice in Wonderland, but nearly the whole cast:




The self-confessed 'comic geek' and 'Disnerd' doesn't just recreate female characters. She recently shared a photo of her in a way-too-real Jafar from Aladdin where she used face paint, make up and very heavy contouring to achieve the look.




If you're wondering what this talented make-up artist looks like without her heavy contouring and face paint, here she is:




Saraswati also takes requests, no matter how strange. Here she is as Leela from Futurama, requested by one of her many followers:




Who knew a hijab could be so versatile.


COMMENTS
Comments are moderated and generally will be posted if they are on-topic and not abusive.
For more information, please see our Comments FAQ