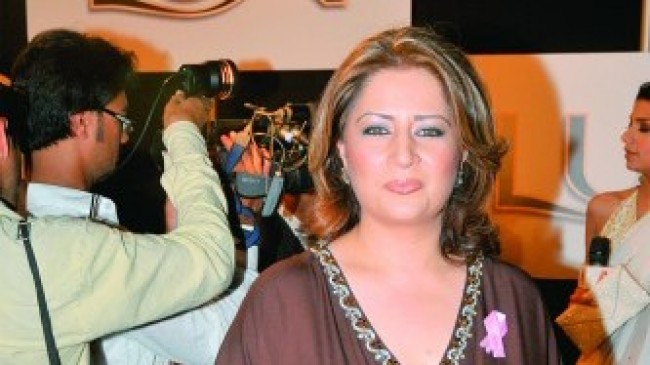 ---
KARACHI: Atiqa Odho led a group of artists in their demand that Pakistani television shows should be shown in India.

The artists, who are part of a platform called 'Our country, our people' held a press conference at the Arts Council on Saturday evening, and said that it is their right to project their soap operas and films across the border; as India does in Pakistan. Playwright Dr Enver Sajjad said, "There is no political force in our country that understands our woes.

From General Ziaul Haq's takeover and to date, we can certainly say that we are an anti-culture society. Sonia Gandhi was right when she said that India has no need to fight a war against Pakistan, since they have already won on cultural lines." Khalid Anam, a veteran TV and theatre actor said, "Friendship and trade is always based on a bilateral relationship.

We should know our rights. We forget in our enthusiasm that we too have rights; and we should be able to dictate our terms and conditions to the media." Producer Jalal Ansari focused on artists' rights. "Two points need to be focused on, firstly we are not on war with anyone (or any country) but more importantly we need to focus on the rights of the artists community."

Behroz Sabzwari said that his mother watches Indian soaps constantly but still asserted, "Our work in Pakistan is no less and must be regarded as such." Shahzad Nawaz, who has worked as a creative consultant for several TV channels said, "Our leaders have never been fair. We once had a cultural policy but I don't believe we have one now.

I believe reciprocal and bilateral cultural trade should be encouraged between India and Pakistan. Interestingly, Pakistan is the only country in the world where the idiot box is a considered a more penetrative medium of expression than the silver screen!" The comedian and talk show host Mani said, "Ever since I have started working in production I have realised that Indian content must not be aired, because our content suffers greatly."

Atiqa Odho said, "It has been two years since we launched a complaint with the Ministry of Information about the problems facing media and the artists' community in general but it has been to no avail." While artists may be right in complaining that Indian content cuts into their share, it is important to realise that there is a huge demand for soaps and films from across the border.

A clampdown on them has only resulted in an increase in piracy of films and television shows. Perhaps what the artists' community needs to do is to lobby the Indian government to allow Pakistani channels to air there, or tie up with Indian actors and producers to lobby for them.
COMMENTS
Comments are moderated and generally will be posted if they are on-topic and not abusive.
For more information, please see our Comments FAQ