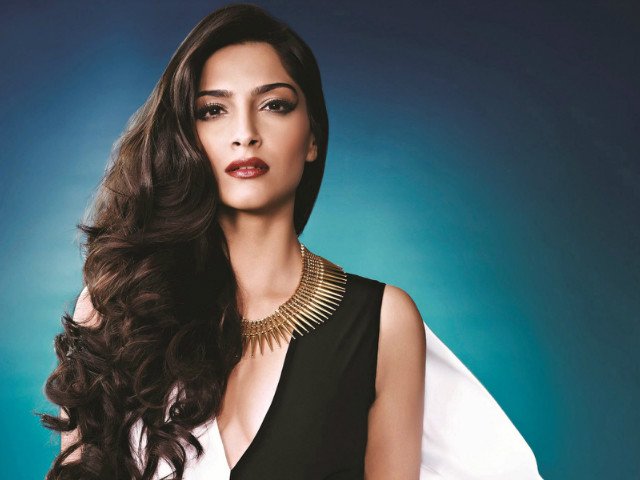 ---
Sonam Kapoor is still not over the ban on her film Neerja in Pakistan, as the Bollywood actor is still eagerly waiting for approval of her film on this side of the border.

"This film is about humanity, it's about Neerja not discriminating between Hindu, Christian, Muslim, or Pakistani-Americans and Indians. It is about just saving anybody and everybody because she believed in humanity, she believed in insaniyat," the actor said.

Sonam Kapoor told India Today that the ban on Neerja continues to baffle her, citing that Pakistan was the first country out of the US and India to honour her with an award for her courage and bravery.

"I feel it's so sad Pakistan isn't showing the film. I'm very, very disheartened because there's nothing in the film that depicts Pakistan in a bad light. The Bhanot's told us that before India or the US awarded Neerja, 30 years ago it was Pakistan who awarded Neerja with the Tamgha-e-Insaaniyat," Sonam added.

Neerja's story to remain unheard in Pakistan

Neerja director Ram Madhvan, who accompanied Sonam to the interview, said, "[The award], which is actually for human kindness, incredible human kindness -- if a government can go out there and award somebody for incredible human kindness -- then first we need to salute that and the fact that the film is actually saluting it, I think Pakistan also needs to go out there and salute that."

When asked if Pakistan was being hypocritical for having awarded Neerja but not allowing the film to go to the censor board, Sonam disagreed.

"I don't think so, even in India and everywhere there are certain issues. Even we haven't allowed a lot of Pakistani artists to come and work here and it is a bit difficult for them to do that so I think it goes both ways. It was a little over 60 years ago that partition happened, before that we were all one country," the actor said.

Sonam upset 'Neerja' won't release in Pakistan

"Like they say Hindu-Muslim bhai-bhai, India and Pakistan are bhai-bhai, sister-sister and more, so it's very strange," she added.

Sonam recalled her childhood days when she was in boarding school and there was no discrimination then between Indians or Pakistanis. "I remember that there were people from all over the world but Indians and Pakistanis always hung out together because we eat the same food, we have the same culture, we have the same language, we look the same everything is same, there is no difference," she said.

The actor jokingly added, "It's only when India, Pakistan matches used to happen that we used to be on the other side but otherwise we were always on one side. I don't understand what it is."

But Madhvani quipped in that not knowing the reason behind the ban was also a major problem. "We also don't know right now why it is that they haven't agreed to show it so at least they should give us a reason. We're still waiting for the reason."

While they wait for answers, Sonam is sure that Pakistanis love her. "I know they love me there because all my films have done ridiculously well in Pakistan. I've done several ads in Pakistan. I've done Tarang, I've done a phone ad, lawn clothes. My films have are the highest grossers in Pakistan!" she exclaimed.

Neerja's last flight announcement will leave you in tears

She then stated that two of her films, one alongside Pakistani heartthrob Fawad Khan and the other opposite Salman Khan were major hits, yet two of her best performances, Neerja and Raanjhanaa have been banned in Paksitan.

"Two of my best films, best performances have not been shown in Pakistan, they definitely like me in Khoobsurat and Prem Ratan Dhan Payo. Can you believe it? They haven't shown Raanjhanaa," she said.

Sonam Kapoor has received rave reviews for her performance in newly released biopic Neerja. The film is based on a true story of a flight attendant who risked her life to save passengers on board a Pan Am airline in 1986 when it was hijacked by terrorists.
COMMENTS (6)
Comments are moderated and generally will be posted if they are on-topic and not abusive.
For more information, please see our Comments FAQ