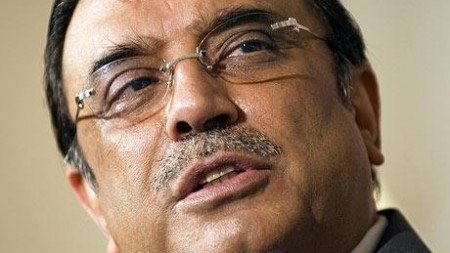 ---
ISLAMABAD: President Asif Ali Zardari on Monday called for early legislation for Reconstruction Opportunity Zones(ROZs) to enable goods manufactured in Pakistan find easy access to the world, especially the EU and the US markets.

Talking to a Congressional delegation headed by Representative Howard L. Berman, Chairman House Foreign Affairs Committee (HFAC) at Aiwan-e-Sadar, the President said that the ROZs would be an effective tool to give people hope for the better through creation of jobs and economic opportunities.

The President informed the delegation that during his recent tour to Khyber Pukhtunkhwah and his meeting with the tribal elders, people asked him about the progress made in this regard.

He called upon the visiting delegation to use their influencein expediting legislation on ROZs. The delegation during the meeting discussed Pak-US bilateral relations, Pakistan's role in the fight against militancy and terrorism and regional situation.

The President said that Pakistan has suffered tremendously in the global fight against militancy and finds its economy greatly ravaged by the war. He said that Pakistan's hospitals, schools, universities, religious places, markets and government and defence establishments have especially been targeted by the militants but they never succeeded in overpowering the resolve of its people to pursue the struggle to its logical end.

"Our determination stands beyond any doubt against those elements that not only wanted to hold us hostage to their narrow visions but are also a threat to the peace and stability of the international community."

He said that with this backdrop, Pakistan has been approaching its friends for assistance. "We need assistance not only to rescue our war ravaged economy but also to create vistas of opportunities for our people in order to win the battle of hearts and minds," he remarked.

The President appreciating the role of security forces in the war against militancy said that they have rendered great sacrifices against the militants and were acutely aware of their responsibility to uphold the highest standards of professional conduct.

He hoped that the process of CSF reimbursement would also be expedited.

The President said that Pakistan has the biggest stake in regional peace and stability and welcomes every effort made in this regard.

President Asif Zardari appreciated Congress and Representative Howard L Berman's efforts for the Kerry-Lugar Bill in the Congress. He said that Pakistan's priority remains trade rather than aid as it wants to strengthen its equation based on long-term mutual interests and shared goals.

He said that the democratic Pakistan understands the need for transparency and accountability not only towards US assistance but also its domestic finances so that the dividends of democracy could reach ordinary people in far flung areas.

The delegation thanked the President for meeting and assured that US would continue to support Pakistan in all possible manners.

The delegation comprised of Rep Heana Ros-Lehtinen, US House of Representatives Ranking Member HFAC, Rep Russ Carnahan, US House of Representatives Chairman HFAC Subcommittee on International Organization, HumanRights and Oversight, Rep Ed Royee, US House of Rep Ranking Member HFAC Subcommittee on Terrorism, Non-proliferation & Trade, Rep Mike McMahon, US House of Representatives Member, HFAC and Rep BradMiller, US House of Representatives Member HFAC.

Anne W Patterson, US Ambassador was also present duringthe meeting.

The Pakistani side included Minister for Defence Chaudhry AhmedMukhtar, Minister for Foreign Affairs Makhdoom Shah Mehmood Qureshi, Minister for Interior Rehman Malik, Secretary General to thePresident Salman Faruqui, Finance Advisor Dr Adul Hafeez Sheikh, Senator Syeda Sughra Imam, Farahnaz Ispahani, Secretary to President Malik Asif Hayat, Secretary Defence Lt Gen (R) Syed Athar Ali, Secretary Foreign Affairs Salman Bashir, Secretary EAD Sibtain Fazl-e-Haleem and Spokesperson to the President former Senator Farhatullah Babar.
COMMENTS (1)
Comments are moderated and generally will be posted if they are on-topic and not abusive.
For more information, please see our Comments FAQ