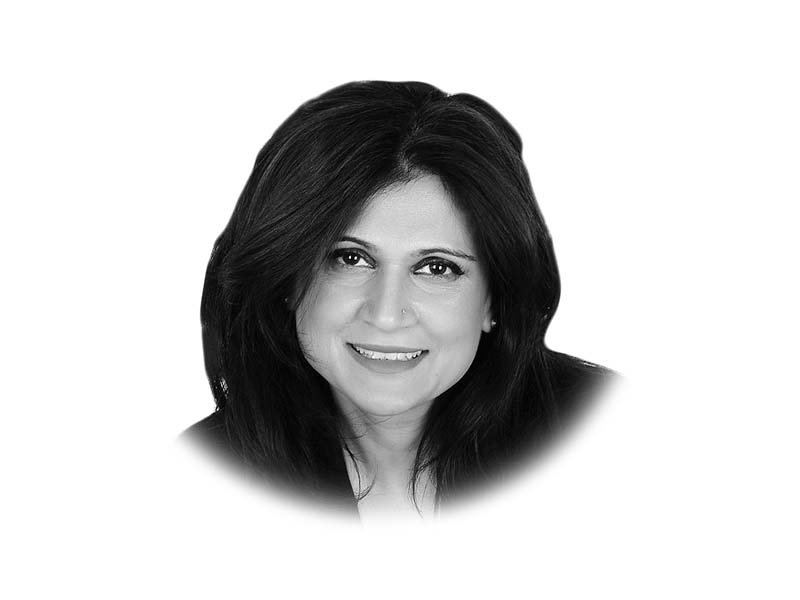 ---
On December 16, 2014, following the massacre at the Army Public School, many Americans wept as they witnessed the scenes of innocent people being slayed. The law-enforcement agencies of America, the FBI, Homeland Security, LAPD Counter Terrorism and the LA County Sheriff's Department stood by the Pakistani-American community in condemning the heinous act. Our fellow Americans called us and sent us messages of support and grieved with us. Newspapers were strewn with condemnation of the act and there was a wave of sympathy that ran across the US for Pakistanis.

Therefore, one can imagine my utter dismay when I saw the reaction of Muslims, especially Pakistanis, when the San Bernardino shooting happened. There were those who went as far as to suggest that the act was committed by 'three white men, while others put the blame on Jews. The travesty is that Muslims in America started believing these lies and refused to simply acknowledge the cold hard fact that two young Pakistani Muslims got radicalised and killed in cold blood, just like the terrorists in Peshawar.

At this critical time in history, it was imperative that we as Pakistanis came out with a strong statement of support for the victims, their families and a firm stand against terrorism. But there were many Pakistanis who were too busy denying what had happened and finding scapegoats and concocting conspiracy theories, which have now become the official pastime of the Muslim world. The only organisation getting airtime was one that does not represent the Pakistani-American point of view at all, the Council on American Islamic Relations (CAIR), which came out with statements that didn't help the Muslim cause.

This resulted in even liberal Americans questioning the statements and many friends who have fought against discrimination and stood by Muslims, started to question our motives. What unleashed was a wave of Islamphobia and now, Muslims are faced with a PR nightmare. There is no real mystery about the San Bernadino massacre. The couple was radicalised and the incident was IS-inspired. There were a few Pakistanis who witnessed the bloody ordeal but want to remain anonymous. I spoke to one of them personally and urged her to come forward to thwart the conspiracy theories but she remained fearful of repercussions. I spoke to many people who are on the boards of the mosques that Rizwan Farook visited and urged them to denounce terrorism and the criminal act of the couple, but most remained apprehensive of CAIR's reaction. I reminded them that they would now be responsible for any backlash and marginalisation of Muslims going forward. They watched in silence.

Most Pakistanis, especially in Los Angeles, have built a very trusting relationship with law enforcement since 9/11. There are years of engagement and outreach efforts on both sides that has brought our community to the forefront of countering violent extremism. Los Angeles became the model city in this regard and I was chosen to speak at the White House Summit for Countering Violent Extremism in February 2015. A Pakistani, Muslim woman given the honour to speak to the president, the vice president and the entire world on countering extremism was too much to swallow for certain organisations and such initiatives were termed 'spying programmes, when every effort has been made to ensure rights of Muslims are not violated.

I ask Pakistani-Americans to think about whether they want to be a community with a voice and a seat at the table or do they want their future generations to be discriminated against by showing a lack of empathy when our fellow Americans are attacked, instead of standing with them? If Muslims do not engage and build relationships with mainstream America, they will be marginalised and that will lead to isolation and discrimination. That is a reality that is slowly being realised by Pakistanis. At the time of the San Bernardino shooting, what was needed was a message to denounce terrorism and to show support for the victims, just like it was given to Pakistanis when the Peshawar tragedy occurred. This is a wake-up call for Pakistani-Americans — be your own voice.

Published in The Express Tribune, February 24th, 2016.

Like Opinion & Editorial on Facebook, follow @ETOpEd on Twitter to receive all updates on all our daily pieces.
COMMENTS (16)
Comments are moderated and generally will be posted if they are on-topic and not abusive.
For more information, please see our Comments FAQ