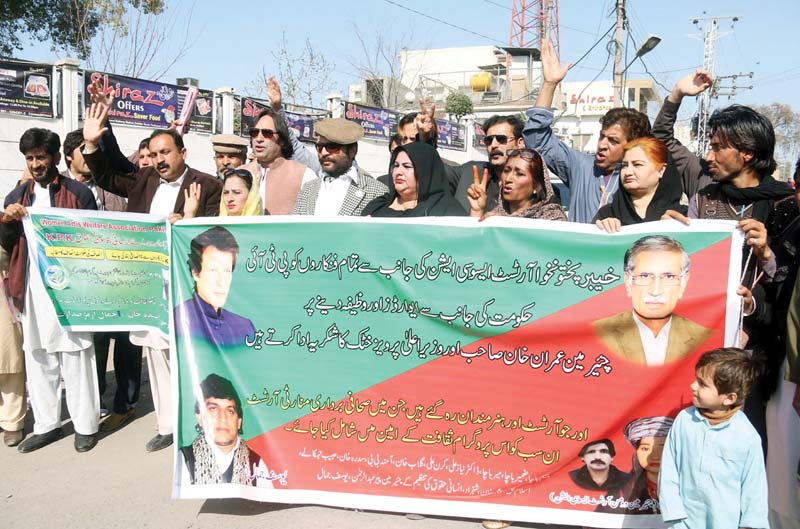 ---
PESHAWAR:



Senior artistes of Khyber-Pakhtunkhwa demanded the provincial government give them the independence to produce plays and organise other cultural activities at the only theatre in Peshawar – Nishtar Hall. Their objective is to revive such activity in K-P, they said at Peshawar Press Club on Monday.




"In other parts of the world, it is artistes who run theatres and not government bureaucrats," Aman Khan said.  Aman has been working in the Pashto and Urdu film industry for the last 45 years.




"Give the Nishtar Hall back to us and we will make it profitable." He said even though they take stipends from the government, artistes can help the hall make a profit. He added independent theatre would not only promote new talent, but serve the cause of arts and culture.

Grateful for the help

Dozens of senior artistes, including Tariq Jamal, Javed Babar, Jamil Babar, Waseema Khan, Ismail Shahid, Gulrez Tabasum, Iftkhar Qaiser and others were at the news conference. They thanked the K-P government for the monthly honorarium of Rs30,000 each to 500 artistes and the announcement of an endowment fund by Chief Minister Pervez Khattak. They also appreciated that the government had taken such steps for the welfare of actors, singers, poets and musical instrument makers for the first time in the country's history.

Aman asked authorities to expand the programme and include more artistes as some of them were still protesting over being ignored.

A slow death

Citing the example of Al Hamra Arts Council, a theatre in Lahore, he said actors, directors and musicians can also work independently and produce quality work. He pointed out Nishtar Hall was now mainly associated with political gatherings than arts and culture.

"Monthly stipends are not the solution; practical steps are needed to support artistes and revive cultural activities in the province." According to Ishrat Abbas, a senior drama artist, "We should be given a free hand to arrange cultural activities." Government supervision and support was always required to meet the changing requirements of the entertainment industry, Abbas added.

Abbas maintained  there were independent theatres providing quality entertainment before Partition. However, arts and culture later fell directly under government and this led to entertainment dying a slow death.

Street theatre

Pashto film industry legend and senior filmmaker Lala Sardar Khan urged the younger generation to help promote street theatre. He said it would not only serve as a platform for upcoming performers, but would also pave the way for positive social change.




He was speaking as chief guest at a certificate distribution ceremony of a theatre training workshop on Sunday in Khazana village. The event was organised by Revival of Indigenous Cultural Heritage (RICH), a project of the culture department. Lala Sardar directed and produced dozens of films in the earlier days of Pashto cinema. "I have devoted 40 years of my active life to the Pashto film industry," he said. "Our emphasis was to have an effective storyline, powerful script and quality performance unlike present times when Pashto cinema is being used wrongly to promote violence and vulgarity."

During the workshop, youngsters were taught different techniques and ways to utilise theatre to bring about positive social change.

Published in The Express Tribune, February 23rd,  2016.
COMMENTS
Comments are moderated and generally will be posted if they are on-topic and not abusive.
For more information, please see our Comments FAQ