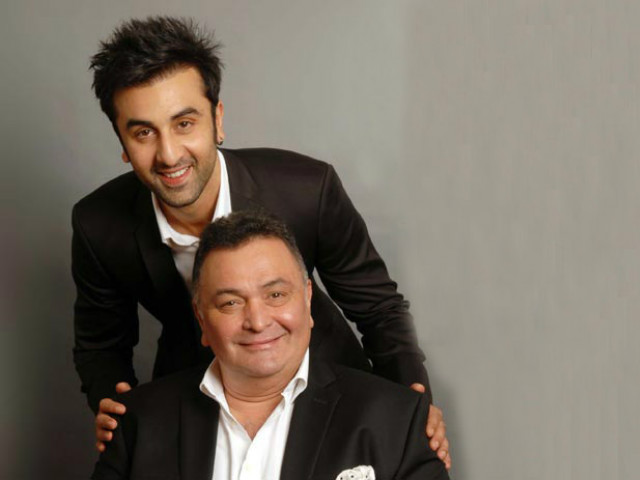 ---
Rishi Kapoor is no different than any other father and thinks it's time for his 33-year-old son to settle down.

In a recent interview with the Times of India, the veteran actor was asked if he wants Ranbir Kapoor to get married to which he replied, "Of course, he should, he's 33 now."


Ready to work in Pakistani films: Ranbir Kapoor

But that doesn't mean this doting father will impose his decisions on the Tamasha actor. Rishi said that Ranbir should choose a partner for himself, which also hints at his parents not having played a role in his breakup with Katrina Kaif. "It's entirely up to him who he chooses. I would never do the matchmaking for him," Rishi said.

The Bollywood veteran actor further added that he wouldn't mind even if Ranbir doesn't seek his approval. "I never asked my father who I should marry; I just went to him for his blessings. Ranbir, too, will not seek our approval; only our blessings," he said.

Rishi also revealed that Ranbir has always been 'passionate' about films and that he would have still been connected to showbiz, even if he wasn't an actor.

Ranbir Kapoor and Katrina Kaif call it quits?

Ranbir is passionate about movies, and I knew quite early on that his interest and love lay in films. If not an actor, he'd still have been connected with films in some way," said Rishi.

Rishi also believes his son is a step ahead of him as an actor. "While I am a spontaneous actor, Ranbir combines the best of both; method and spontaneous acting. And he has his head firmly on his shoulders. It's important for parents not to push their kids into a field they're not interested in," said the proud father.

'Kapoor and Sons' trailer is out and Fawad Khan will melt your heart

Rishi on multiple occasions has cause quite a stir on social media due to his outspoken nature. Be it family, career or a national debate, the actor has proven that he believes in freedom, time and again.

On the work front, Rishi will soon be seen in Kapoor & Sons alongside Pakistani heartthrob Fawad Khan, Sidharth Malhotra and Alia Bhatt. While Ranbir is currently shooting for Ae Dil Hai Mushkil and Jagga Jasoos.