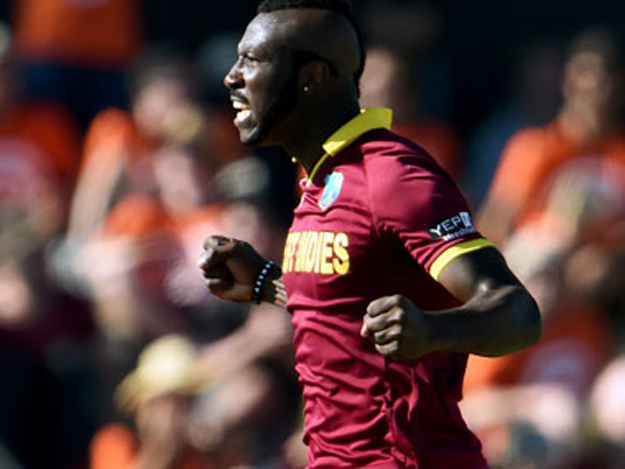 ---
Dispelling security apprehensions, West Indies all-rounder Andre Russell has expressed his willingness to travel to Islamabad if the Pakistan Super League (PSL) is to be played in the country next year.

The Caribbean player, who is representing the Islamabad United in the PSL, however, said he was "scared" and was only being defensive based on the knowledge he had gathered about the security situation in the country through the media.

"Based on what I have heard and stuff you know, I mean, I am going to be scared obviously," Russell told ESPNcricinfo, when asked if he would play in Pakistan. "But, for some reason, I would go to Pakistan. But listen, I am going to be scared. That's the thing."

PSL will shape future of Pakistan cricket: Chris Gayle

Further, the all-rounder equated travelling to Pakistan to going to war-torn Iraq to explain his fear. "It is like me going to Iraq based on what I have heard about Iraq. You are going to have nice places in Iraq. You are going to have nice places in Pakistan. I've seen pictures, beautiful places, beautiful people. But it is [about] what is surrounding [them]," he said.

Russell even gave the example of walking through the streets back home in Jamaica, a Caribbean island nation. "A lot of crime going on in Jamaica. I'm from Jamaica. I'm going to tell, Jamaica is the most beautiful place in the world. You are going to say, No, but, they are shooting people. I will say, no, no. Don't worry. So it is going to be similar [about going to Pakistan]. So if I have to go, I'll go. But if I don't have to, I don't mind."

Russell is one of the first high-profile overseas player in the PSL to express a willingness to play in Pakistan. In the past few weeks, others such as Australia's Shane Watson and Russell's West Indies teammate and T20I captain Darren Sammy have said they would travel subject to security clearance.

Mahmood to replace Mushtaq as Pakistan bowling coach

Watson, who was picked by Islamabad in the draft, said he had pleasant memories of Pakistan, having already toured the country in 2005 with Australia A. "I had a really good time while playing in Pakistan in 2005 during the Australia A team tour," he said on the eve of the PSL. "However, security is the most important thing and if players around the world are declared to be very safe, I will be happy to play there."

Watson expressed hope that cricket would resume in the country soon. "I love playing cricket wherever it is around the world. If security situation continues to get better there, it will be nice and Pakistan hadn't had home team advantage for a long time now because of security concerns and hopefully it works out their way soon," said the Australian.

Meanwhile, Sammy, who plays for Peshawar Zalmi, said he felt bad for fans in Pakistan who have been deprived of international cricket for a long time. While conceding that playing the PSL in the teams' home cities would fill the vacuum, Sammy said the decision to travel was not his.

"Well, to be honest, these decisions are never ours," Sammy said at a media conference in the first week of the tournament. "It is [for] the government and the cricket body to decide, but what I could tell you is that the fans of Pakistan cricket have been missing some good international cricket."

Sammy feels for cricket-starved Pakistan fans

"We as cricketers get to play in front of our home fans and that is something Pakistan have not had an opportunity [to experience], to play in front of their own people for a while. It is sad, but hopefully things could get resolved and every territory could get a chance of playing cricket before their own crowd."

Last year, Zimbabwe became the first international team to play in Pakistan since the 2009 terrorist attack on the Sri Lankan team bus in Lahore. The ICC, however, has not yet given a clean chit to the security situation in Pakistan.

On the eve of the PSL, chairman Najam Sethi had revealed that hosting a few matches in the major cities of Pakistan in the second season was definitely part of his plan.

This article originally appeared on ESPNcricinfo.
COMMENTS (7)
Comments are moderated and generally will be posted if they are on-topic and not abusive.
For more information, please see our Comments FAQ