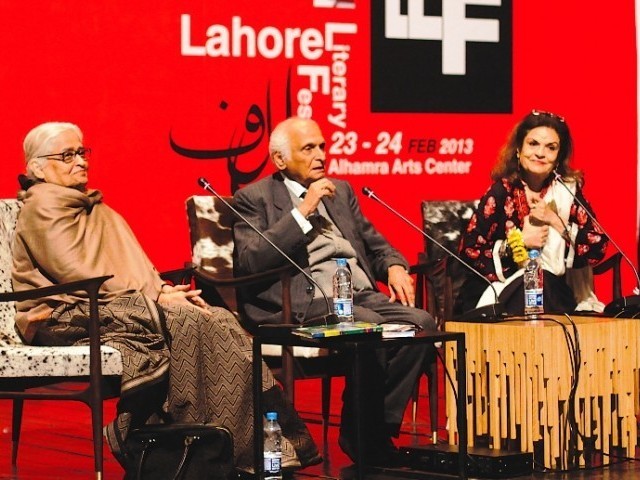 ---
There's always this person in the audience who loves the sound of his/her voice more than that of the speakers. And so as the Lahore Literary Festival (LLF) 2016 kicks into gear, get ready to enjoy the unbridled enthusiasm of this person(s) as he prepares his speech, poorly disguised as a question.

Which is what in fact makes such festivals a riot of uncontrolled, unlimited, unvarnished ideas concentrated in time and space. This year the time and space are both different: two instead of three days, and Avari instead of Alhamra. Yes, creativity here in Lahore will erupt like a mushroom cloud under the dark (and hopefully shortening) shadows of terror.

Sharmila Tagore opens Lahore Literary Festival

This contrast is best displayed on the faces of those who are in attendance at the festival — the eager and excited expression of the literary consumer versus the tense scowl of the District Coordination Officer; the exuberant chatter of the wordsmith versus the aggravated alertness of the Commissioner and the District Police Officer. In some ways this celebration of ideas is also a clash of ideas — one side revelling in its flowering and the other wallowing in it.

Those who wallow prefer to argue their case through the barrel of a gun. This literature festival, and for that matter all such festivals, are a proud defiance against all types of incendiary, exclusionary, and intolerant hate-mongering that aims to clamp down on thought. The decision of the Punjab government to truncate LLF 2016 to two days instead of three is an open acknowledgement that the situation is not under control.

This decision was a flawed one.




Music, art unite India and Pakistan: Tagore

Time to move on though. This weekend Lahore is the place to be — perfect weather, perfect ambience and the perfect gathering to nourish your heart, mind and soul. At the Avari the show has moved into top gear. All types, sorts and kinds are here. Oh look there's the guy who wrote that pulpy fiction — except there was more pulp and less fiction. And he's talking to the gentleman who writes better than most Pulitzer winners. Then of course you see the columnist who takes himself far more seriously than his readers ever could or would. You thought his writings were pompous? Wait till you see the expression he wears around. But today he's dwarfed by the Urdu short-story writer whose pen is mightier than the terrain-hugging, nuclear-tipped cruise missile. He will hold the audience in thrall like he did last year.

The whole ambience is clearly larger than the sum of all its parts. This is what has made these festivals such a bumper success in Pakistan. For a nation burdened with one of the worst educational crises in the world, literary festivals perhaps symbolise our burning desire to break free of the curse of illiteracy. The richness of our literary tradition, the calibre of our writers and poets and the intensity of our craving for meaningful works is a slap on the face of all those rulers who have kept this society deprived of education. Today, we should have been holding such literary festivals in places like Khushab, Muzaffargarh, Mardan, Wana, Sukkur, Khairpur, Loralai and Chaman, instead of just in Karachi, Lahore and Islamabad. Such a day may yet come — perhaps even in our lifetime — but every single year is a reminder of the precious time we have wasted. And continue to do so.

In a strange way then, festivals like the LLF allow us a window into the world of ideas that Pakistan has spawned, and yet also remind us what a small window it is. So many books of such a wide variety are launched every year, and yet the numbers are so few and the variety so less than what it should have been — could have been. So many shining stars of the literary world sparkle on the stage every year, and yet it is evident that for many their ambition far outweighs their talent. And all this while hundreds of thousands of Pakistani men and women born with God-given creativity will never grace these stages because this nation did not give them their right to education. So many publishers will showcase their wares ranging from the sublime to the ridiculous, and yet these displays will trigger a nagging feeling that complete genres of books and writings are missing like they never existed. It is easy to get swept away in the euphoria generated by these festivals — what with smart people, intelligent discourse, thought-provoking ideas floating around in abundance — and yet they remind us of the sad fact that all this should have been much more. Much, much more.

Is culture the antidote?

But if you are on location, such thoughts are fleeting. There's so much on offer and you are spoilt for choice. With foreign visitors now becoming a regular feature, the LLF is growing in ambition and scope. We are still scratching the surface in terms of the absolute potential of the festival for becoming a regional magnet for talent, creativity and exchange of ideas.

So if you happen to be in Lahore this weekend, and are interested in experiencing the best that Pakistan has to offer, come on over to the LLF2016 and dive into the world of ideas unlimited. And while doing so, go ahead and thumb your nose at all those who mistakenly believe they can silence the power of the word by the firepower of the gun.

Published in The Express Tribune, February 21st, 2016.

Like Opinion & Editorial on Facebook, follow @ETOpEd on Twitter to receive all updates on all our daily pieces.