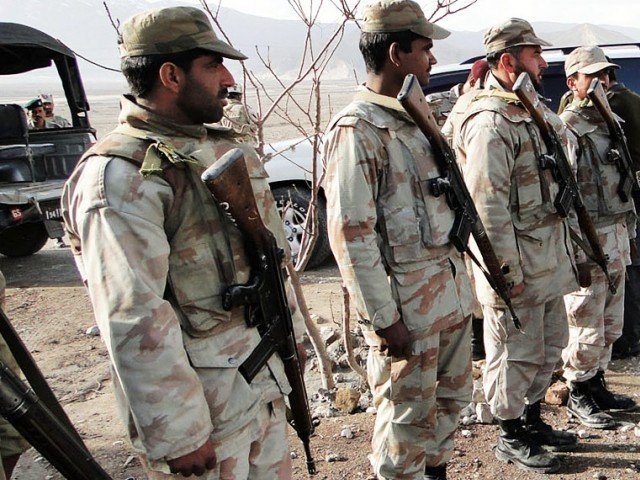 ---
SWABI/ HANGU/ PESHAWAR:



Security and administrative arrangements for local government by-elections in 23 districts of Khyber-Pakhtunkhwa, scheduled for February 21 (Sunday), were discussed at a Civil Secretariat meeting on Friday.




Election Commission of Pakistan Additional Secretary Fida Muhammad spoke to journalists after his meeting with Home Secretary Munir Azam and DIG Operations Abdullah Khan.

At least 40,000 security personnel will be deployed to ensure elections are conducted smoothly in the province. Fida added Frontier Constabulary would also be deployed for the security of highly sensitive and sensitive polling stations.

"Polling will be held at 609 stations," he said. "At least 278 polling stations have been declared highly sensitive, 244 are sensitive. The situation at the rest is stable."

For the first time in history of elections, 3,560 lady health workers will be working at polling stations for women.

Making votes count

According to Fida, 693,502 voters will be eligible to cast a vote – 398,804 men and 294,698 women.

"Of 609 polling stations, 160 are for men, 146 are for women and 303 are combined," he said. "ECP will have 1,748 polling booths – 995 for men and 753 for women."

Fida added, "At least, 24 district returning officers, 115 returning officers and 115 assistant returning officers will be on duty. 4,341 members of the polling staff will be available at stations."

On army deployment

A home and tribal affairs department official privy to the development told The Express Tribune, "20,000 police personnel will be on static duty on the day of the election," he said. "The same number of officials will be patrolling."

According to the official, the provincial government has sent a request to deploy army personnel to ensure security at some stations. However, they have yet to receive a response in this regard.

Bans imposed 

Peshawar DC Riaz Mehsud has imposed Section 144 from February 20 till February 22. There will be a ban on pillion-riding and the sale and purchase of firecrackers. In addition, Afghan refugees will not be allowed to enter the city. Unregistered vehicles and cars with tinted glasses will not be permitted to travel on the roads. Celebration rallies and processions have been prohibited between February 21 and February 22.

Vacant seats

According to an ECP official, a large number of minority and women's seats will remain vacant even after the by-elections because no candidates have submitted nomination papers to contest for these slots. As per the official, 3,560 seats will remain vacant after the polls.

Elected unopposed

At least 574 candidates have been elected unopposed to vacant seats in village and neighbourhood councils. A majority of these candidates are women.

A candidate has also been elected unopposed to a district council seat in Hangu.

Around 864,400 ballot papers will be required for
the elections.

According to insiders, these include 91,100 ballot papers for the district councils and 107,200 for town and tehsil councils.

Swabi and Hangu

Around 567 lady health visitors and constables will be deployed in Swabi for the by-elections on Sunday. A meeting was held at the Swabi DPO's office where LHVs and constables were briefed about their duties.

Meanwhile, 1,440 police officials will be deployed at 18 polling stations in Hangu.

Published in The Express Tribune, February 20th,  2016.
COMMENTS
Comments are moderated and generally will be posted if they are on-topic and not abusive.
For more information, please see our Comments FAQ