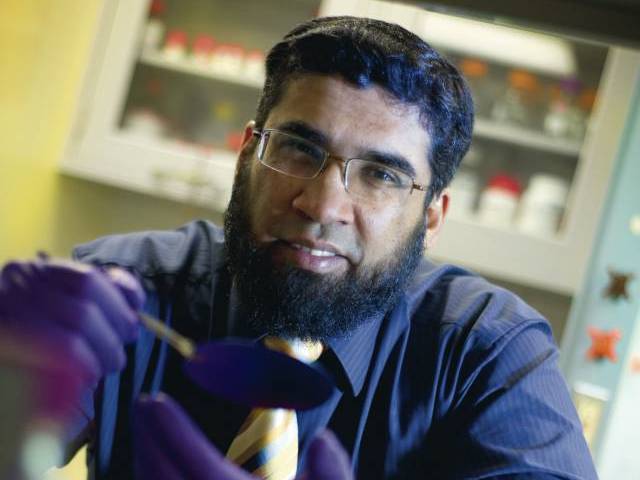 ---
A Pakistani electrical engineer at the University of Texas in Arlington, USA, has developed a new, faster method of detecting cancer cells which may help improve early diagnosis of the disease.

Dr Samir Iqbal, an associate professor in the Electrical Engineering Department, recently gave details of his team's research in Nature's Scientific Reports paper called "Effects of nanotexture on electrical profiling of single tumor cell and detection of cancer from blood in microfluidic channels".

Writing in the article, he said that his team had observed there were many layers of tissue in the human body on which cancer cells act. To speed up the detection process, his team employed nanotechnology to develop walls which could mimic the human layering.

"The answer was in creating a nanotextured wall that fools blood samples into thinking it is actual tissue," Dr Iqbal said, adding, "We used inherent properties of the cell walls to create a diagnostic tool."

"The cancer cells behave differently as they come into contact with the nanotextured walls. They dance."

To create the walls, Dr Iqbal partnered with Dr Young-tae Kim, a UTA associate professor in the Bioengineering Department, STEM doctoral candidate Muhymin Islam and engineering students Mohammad Motasim Bellah, Adeel Sajid and Mohammad Raziul Hasan. The study was part of the 2014 National Science Foundation funding worth $480,000.

Dr Iqbal is an electrical engineer from Pakistan where he completed his bachelors in engineering from the NED University in Karachi in 1997. He went on to study Biophysics at Purdue University in Indiana, US, in 2007 when he also completed his PhD.

Published in The Express Tribune, February 17th, 2016.
COMMENTS (1)
Comments are moderated and generally will be posted if they are on-topic and not abusive.
For more information, please see our Comments FAQ