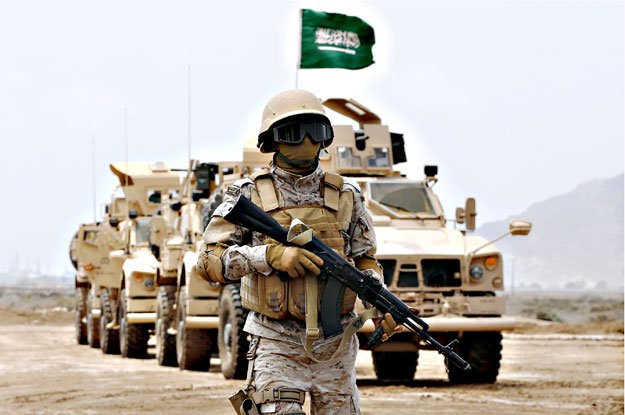 ---
ISLAMABAD: Pakistan on Monday confirmed its participation in a 'multi-national exercise' on counter-terrorism being held in Saudi Arabia a day after Riyadh announced that it was holding 'largest, most important military maneuvers' ever staged in the region.

In a statement the Foreign Office spokesperson Nafees Zakaria said given Pakistan and Saudi Arabia's close fraternal ties, the two countries have cooperated in the field of defence for the past many decades.

Pakistan included in Saudi Arabia's 34-state Islamic military alliance against terrorism

"This includes military exercises and intense training cooperation in various domains. Both countries have training exchanges in which trainers are sent to Saudi Arabia for multiple training areas and Saudi Armed Forces personnel also receive training in Pakistan," Zakria explained.

He said it was against this backdrop that Pakistan was participating in a multi-national exercise on counter-terrorism in Saudi Arabia. "A small Pakistani defence contingent also remains stationed in Saudi Arabia under a bilateral arrangement," Zakria added.

On Sunday, a Saudi Press News Agency (SPA) statement  claimed that troops from around 20 countries, including Pakistan, were gathering in northern Saudi Arabia for "the largest, most important military maneuvres" ever staged in the region.

The exercise involving ground, air, and naval forces sends a "clear message" that Riyadh and its allies "stand united in confronting all challenges and preserving peace and stability in the region", SPA said.

Among them are Saudi Arabia's five partners in the Gulf Cooperation Council, as well as Chad, Egypt, Jordan, Malaysia, Morocco, Pakistan, Senegal and Tunisia.

The development came after Saudi Arabia last week announced that it was ready to send ground troops to Syria to fight Daesh. In December, the Saudi Arabia formed a 34-member coalition of likeminded countries from the Islamic world to fight terrorism.

Pakistan after initial confusion agreed to join the coalition but it insisted that the scope of its participation was yet to be decided.

Monday's statement, nevertheless, shed some light on the level of Pakistan's participation in the Saudi-led coalition.

How can Pakistan be an effective mediator between Saudi Arabia and Iran

A military official insisted that Pakistan's participation in the exercise was not aimed at against any country. He made it clear that Pakistan will not take part in any activity that destabilises Syria or any other country.

Published in The Express Tribune, February 16th, 2016.