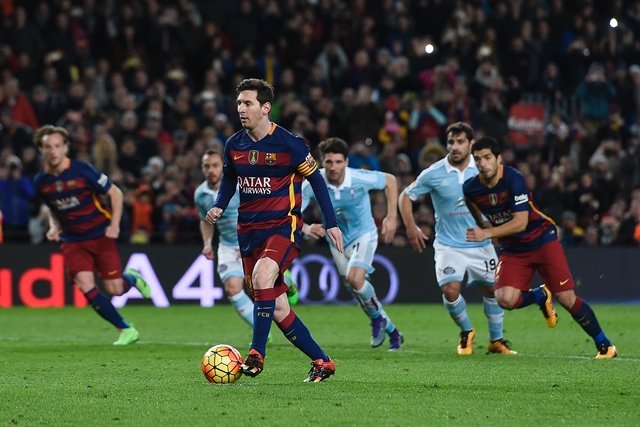 ---
BARCELONA: Barcelona, Feb 14, 2016 (AFP) - Barcelona star Neymar claimed he was meant to be the recipient of Lionel Messi's sensational pass from a penalty that was converted by Luis Suarez as the European champions routed Celta Vigo 6-1 on Sunday.

Messi and Suarez combined to score one of the classiest penalties in football history as Messi squared his spot-kick for the onrushing Suarez to complete his hat-trick ahead of Neymar.

Messi passport video lands Dubai policeman in court

"It was designed for me, we had practised it, but Luis was closer," Neymar told Barca TV.

"It doesn't matter, he scored so it worked well."


He's Messi, he can do whatever he wants...even pass from the penalty spot.https://t.co/LcizKrW9X2

— Sportsbet.com.au (@sportsbetcomau) February 14, 2016


Barca were already leading 3-1 when Messi -- who has missed 17 of 83 penalties in his career -- was chopped down inside the area after an outrageous piece of skill on the by-line.

Messi with a brilliant free-kick, Ivan Rakitic and Neymar got the other goals as Barca moved three points clear at the top of La Liga.

"The forwards are very generous. We love each other a lot and that friendship is the most important thing, no matter who scores the goals," added Neymar.

Messi will not play at Rio Olympics, says Argentina coach

The penalty brought back memories of another Barca legend Johan Cruyff when he and Jesper Olsen played a one-two for the Dutchman to score when playing for Ajax against Helmond Sport in 1982.

"We all remember Cruyff's goal," said Barca boss Luis Enrique.

"I wouldn't dare to do it because I would tread on the ball.

"Some will like it, some won't, but as Barca players and members of the club, on top of winning titles we try to enjoy our football in a spectacular way."

Spanish sports daily AS quickly christened the move as the "penalty of the century."

Yet, other sections of the Spanish media also claimed Barca's creativity boarded on a lack of respect for their opponents.

Messi undergoes tests for kidney problems

"We have to enjoy our football, respect the opponents and try to show we are the best through the way we play," added Enrique.

"In this country a kick is better accepted than a piece of skil. It doesn't bother us."

French duo Thierry Henry and Robert Pires tried a similar trick without success as they botched a penalty for Arsenal against Manchester City in 2005.

And Barca defender Jordi Alba admitted the South American duo had caught even their teammates by surprise.

"Leo always invents things and it was perfect," said the Spanish international.

"We hadn't seen it in any training session, we didn't know anything."
COMMENTS (1)
Comments are moderated and generally will be posted if they are on-topic and not abusive.
For more information, please see our Comments FAQ