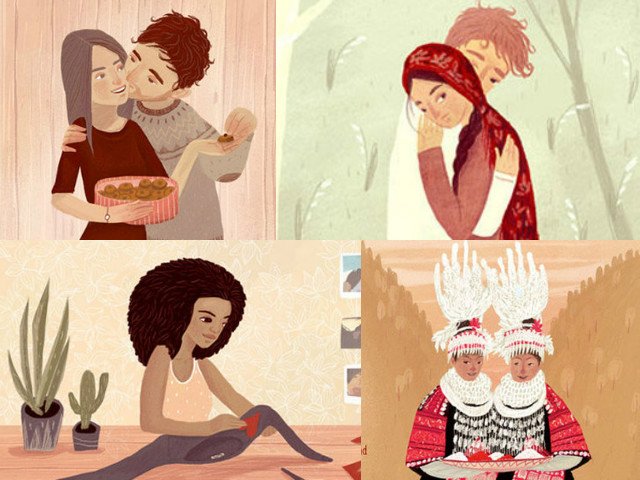 ---
Moving on from red roses and chocolates, many couples have unique ways to woo their partners on Valentine's Day.

To explore global Valentine's traditions, artist Marie Muravski has created a series of illustrations to show how couples around the world celebrate this special day.

Express.co.uk takes a look at unique traditions that may give you some tips to get your V-Day celebrations right:

1. Argentina

Argentinians have dedicated not just one but two days to love. Apart from Valentine's Day, the couples celebrate 'Sweetness Week' in July in which they exchange kisses for sweets.




2. Wales

The Welsh follow a 16th century tradition by celebrating St Dwynwen's Day Day on February 25. St Dwynwen's is the patron saint of love. Lovebirds exchange gifts of carved wooden spoons to brew romance.




QUIZ: We can guess your ideal Valentine's Day date based on your personality

3. Romania

Romanians express their love on February 24 during the Dragobete festival. Romanian mythology suggests Dragobete is similar to Cupid and the day is celebrated to honour him. Couples pick flowers from the forest and wash their faces in snow. It is a common belief that participating in this festival prevents one from falling sick for an entire year.




4. South Africa

The celebrations are based on Lupercalia, an ancient Roman festival. Instead of couples, young girls pin the names of their partners on their sleeves. But some men have also adopted this tradition.




Fawad, Sidharth, Ranveer and Ranbir reveal V-Day plans!

5. Bulgaria

Valentine's Day is also known as Winemakers Day. Bulgarian couples share a glass of their favourite wine to make it special.




6. South Korea

South Koreans are highly romantic as they share love on the 14th of every month. Apart from being intense lovers they are foodies too. All the singles, boys and girls, console each other on certain days by eating big bowls of black noodles throughout the year.




Valentine's Day celebrations banned in Islamabad?

7. China 

Qixi is the Chinese festival of love that is observed on the seventh day of the seventh month on the Chinese calendar. Couples prepare fruit and pray for prosperity.




In Miao, south west China, an assortment of rice dishes are prepared by women. These are offered to potential suitors and the fate of the relationship depends entirely on which item is discovered in the rice.




8. Brazil

Brazilians also observe two days, Dia dos Namorados and Saint Anthony's Day to spread love. Among many other rituals, single women write down the name of a man and then exchange with others to determine who they will marry on the eve of Namorados.


COMMENTS
Comments are moderated and generally will be posted if they are on-topic and not abusive.
For more information, please see our Comments FAQ