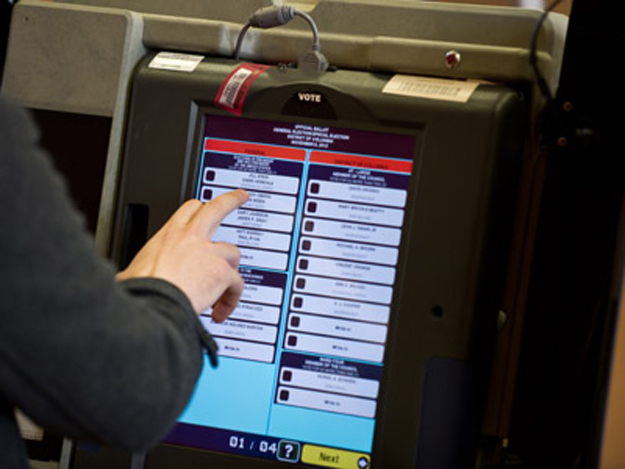 ---
ISLAMABAD:



A leading United Nations expert on electoral technology has advised Pakistan's top polls supervisory body against completely moving to an electronic voting system before 2023.




Ronan McDermott was speaking on 'Use of Technology in Elections' — with particular focus on electronic voting machines (EVMs) and biometrics — jointly organised by the Election Commission of Pakistan (ECP) and the United Nations Development Programme.

Members of the parliamentary committee on electoral reforms attended the session, during which the UN expert presented a global view of the merits and demerits of the main electoral technologies, and shared comparative experience on their adoption.

Electoral reforms: ECP told to buy electronic voting machines by September

"My experience in election management in Pakistan and other countries leads me to recommend that Pakistan pilot a variety of EVMs over 2017 and in some 2018 general elections polling stations to determine which technology is most appropriate," said McDermott.

Subject to successful pilots — and stakeholder acceptance — the ECP should gradually scale up the EVMs with a target date for full national rollout not earlier than 2023, he added.




On results technology, the specialist recommended that the result management system be given a solid legal framework and be used in all by-elections between now and 2018. "Transparent result management contributes to the ECP's credibility. Trust is more important than technology itself."

Chief Election Commissioner (CEC) Justice Sardar Muhammad Raza outlined how the ECP, in consultation with the parliamentary sub-committee on electoral reforms, had piloted a range of innovative initiatives such as mobile results transmission, biometric voter identification and a geographic information system-enabled polling scheme.

The myth around electronic voting machines

"Before committing to a large technology purchase," the CEC noted, "the ECP would carefully review its appropriateness to the context of Pakistan, and would also test it extensively in the field."

Nadra blocks CNICs

The country's top citizen registration body told a parliamentary panel that it had blocked 136,000 identity cards because of wrong information provided by the card holders.

During an in-camera session of a parliamentary sub-committee on electoral reforms, National Database & Registration Authority (Nadra) officials said they had also identified 15,247 people who had more than one computerised national identity card (CNIC).

The registration body is in the process of verifying another 9,000 CNICs with possibly wrong credentials, and is also investigating 72,000 CNICs issued to foreign nationals during the past few years.

Published in The Express Tribune, February 11th,  2016.