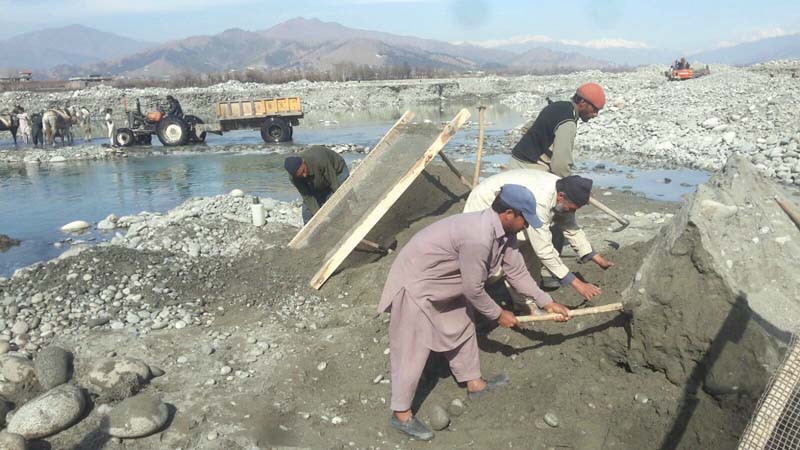 ---
MINGORA:
Every morning, labourers from different villages of the district grab their shovels and make their way to Swat River to dig for gravel and pebbles. It is a tough job which usually requires more machine and less manpower but it's a job they need to do –even if it means standing ankle-deep in freezing water in winter. Every morning, even in the biting cold.

The gravel which they dig up is sold to factories in Swat; their horses help carry the load.  When asked, 50-year-old Zor Talab Khan, from Sangota village, told The Express Tribune he does not have any other job which is why he and his peers head to the river regardless of the season. Walking The Express Tribune through his routine, Zor Talab said he wakes up in the wee hours for morning prayers; after that it's onto work, which keeps him busy till noon.




Zor Talab manages to make Rs800 to Rs1,000 every day.

Gul Roshan, another labourer, explains generally heavy machinery is used to extract gravel and sand from rivers but they do not have the required machines.

The material is then sold at factories nearby, in Swat, and not to other cities. The pebbles and gravels are then crushed and filtered at the factories and are used in the construction of buildings.

Money for your life

Around 1,500 to 2,000 men are presently engaged in this labour of extracting gravel. If they are lucky enough, they each manage to sell 50 to 100 sacks per day at a price of Rs2,500 for 100 sacks. If they are fortunate enough, they don't die in the process.




So far this year, at least four labourers have died, along with their horses, while working the river. Some of these fatalities were caused by drowning in river where the currents were stronger.

A long time earning

Most of these labourers have been involved in this line of work for 25 years.

Some of them say it was around the time when the construction of concrete houses had started in the area, replacing the wooden structures.




Their work was hindered a great deal by militancy but many returned to work following the military operations in Swat.

Published in The Express Tribune, February 11th,  2016.