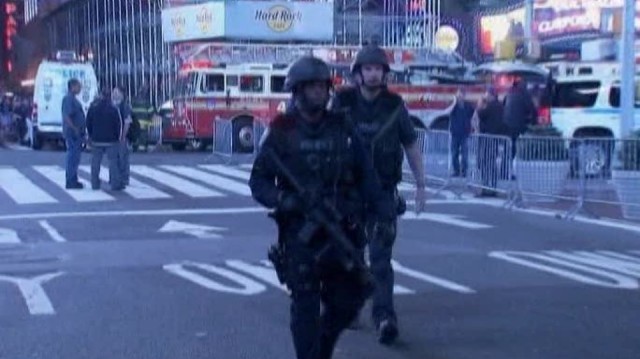 ---
NEW YORK: Investigators have found no evidence of a Taliban connection to a car bomb defused in New York's Times Square as they pore over the vehicle and security camera footage for clues, police said on Sunday.

U.S. Homeland Security Secretary Janet Napolitano said the scare on Saturday in the busy entertainment and shopping area was being treated as a "potential terrorist attack" but she and other officials held off identifying possible culprits.

The Taliban in Pakistan said it planted the crude device made of propane, gasoline and fireworks to avenge the killing in April of al Qaeda's two top leaders in Iraq as well as U.S. interference in Muslim countries.

But New York Police Commissioner Raymond Kelly said there was "no evidence" to support the Taliban's claim and no way of knowing right now whether there were links to Islamist groups or to a domestic cause in the United States.

Kelly said a white man in his 40s had been identified in security footage and was seen removing a dark shirt to reveal a red shirt about half a block from where the vehicle was left. He said it was unclear if this was related to the car bomb.

The device also contained bags of an "unknown substance" that had "the look and feel" of fertilizer, he said.

Police, tipped off by a street vendor, found the bomb in a sport utility vehicle around 6:30 p.m. (2230 GMT) on Saturday when Times Square was packed with tourists and theater-goers.

The area was evacuated on Saturday evening but largely reopened early on Sunday with a heavy police presence.

"Either way we should know more soon," said Paul Rogers, a terrorism expert at Britain's Bradford University. "Because the explosives didn't go off, the forensics experts have a large amount of material in the vehicle to work on."

New York and its 8 million people have been on high alert since the Sept. 11 attacks in 2001 when airliners hijacked by al Qaeda militants toppled the World Trade Center's twin towers, killing more than 2,600 people.

The Obama administration is "considering all possibilities, including that a terrorist group might have had a role," White House spokesman Robert Gibbs said.

A U.S. intelligence official said the Taliban claim was not surprising "but we just don't know at this point who may be behind this event."

The deadliest home-grown attack in the United States killed 168 people in 1995 when a fuel-and-fertilizer truck bomb planted by Timothy McVeigh and another right-wing extremist exploded at a federal building in Oklahoma City.