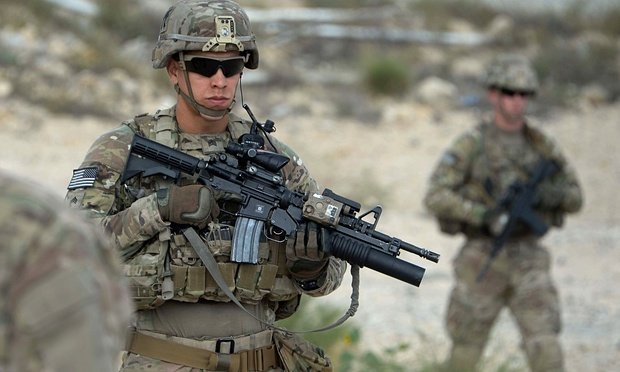 ---
KANDAHAR: The United States is set to send additional troops to Afghanistan's embattled southern Helmand province in a bid to bolster local forces that have struggled to fend off persistent Taliban assaults, officials said Tuesday.

The new mission would focus on training and buttressing the 215th Corps of the Afghan army based in the province, a spokesperson for the US army told AFP.

It will also provide additional protection for the US advisors already on the ground.

Hundreds more US troops in Iraq than previously stated: Pentagon

"This was a planned deployment of additional personnel to both bolster force protection for the current staff of advisors and to provide additional advisors to help with ongoing efforts to re-man, re-equip, and re-train the 215th Corps," said Colonel Michael Lawhorn, a spokesperson for the US command in Kabul.

The spokesman did not provide more information on the deployment, including troop numbers, but said the soldiers' mission was to help "train, advise, and assist our Afghan counterparts".

Top Pakistan, US commanders discuss Afghan peace process

Helmand, a poppy producing province in southern Afghanistan, has seen some of the fiercest battles over the course of the of war that began almost fifteen years ago.

The Taliban have intensified their campaign in the province since the US-led combat mission in the war-torn country officially ended in 2014.

Last December, a Taliban offensive drove out Afghan forces from most of the Sangin, a major poppy growing area in Helmand. The onslaught raised fears that Afghan forces were too overstretched to fend off the insurgents.

The government forces backed by US airstrikes later pushed back the Taliban, though some local officials admit the strategically important district largely remains under the insurgents' control.

An Afghan army commander in Sangin told AFP on Tuesday that the US mission in Helmand, though limited, was crucial in their fight against the Taliban.

"The US special forces help evacuate our casualties, resupply our troops and coordinate airstrikes on enemy positions. I believe, if it was not for their help, Sangin... would have already fallen," he told AFP requesting anonymity.

With many US advisors embedded with Afghan troops on the battlefield, they have been increasingly engaged in combat. Last month, a US soldier was killed in Helmand province when their unit came under Taliban fire.

In October, President Barack Obama announced that thousands of US troops would remain in Afghanistan past 2016, backpedalling on previous plans to reduce the force and acknowledging that Afghan forces are not ready to stand alone.