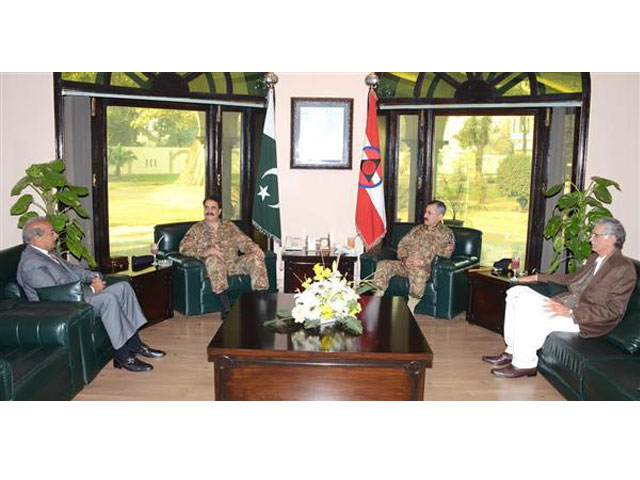 ---
Chief of Army Staff General Raheel Sharif has lauded the resilience and sacrifices of the people of Khyber-Pakhtunkhwa (K-P) and Federally Administered Tribal Areas (Fata) for standing up to the "atrocities of terrorists".

"The people of KP and Fata stood up to atrocities of the terrorists, pushed them back and marginalised them in the society which deserves highest of accolades," a statement issued by military's media wing, ISPR, quoted the COAS as saying during a special Apex Committee meeting of K-P and Fata.

The meeting, held at the Peshawar Corps Headquarters of the Pakistan Army, reviewed the progress of ongoing military operations with special focus on return of the temporarily displaced persons (TDPs).

Global response needed to defeat terrorism: General Raheel

"After successfully evicting terrorists from their sanctuaries and restoring writ of the state, we are in the most difficult phase of the operation; physically rebuilding the war-torn areas, resettling of the IDPs and eventually establishing an administrative system that focuses on the needs and aspirations of the people," General Raheel observed.

Further, the army chief emphasised that the terrorists and their facilitators will never be allowed to return to the tribal areas. "Together, InshaAllah, with our tribal brethren we shall ensure that terrorists and their facilitators are never allowed to return to these areas," he said.

General Raheel vowed to ensure a timely and dignified return of the TDPs to resettle them in their respective homes while reiterating his commitment with the tribal people to rebuild the area and revive its entire economic infrastructure.

Keen to leave lasting legacy, General Raheel 'never desired' extension

The COAS directed all officials concerned to expedite the resettlement process and meet deadlines by removing impediments which are causing delays in timely completion of the work.

Meanwhile, K-P Governor Sardar Mehtab Ahmed Khan and Chief Minister Pervez Khattak appreciated the wholehearted support of the Pakistan Army in the resettlement of the TDPs and vowed to rid the province of extremism besides paving way for development and wellbeing of the people.

Peshawar Corps Commander, senior provincial and Fata Secretariat officials were also present at the meeting.

Kazakhstan's army chief calls on General Raheel Sharif

Meanwhile, Chief of Army Staff General Raheel Sharif and Chief of General Staff of Armed forces of Kazakhstan Colonel General Saken Zhasuzakov discussed matters of mutual professional interest and defence cooperation on Tuesday.

Zhasuzakov had called on the army chief at the General Headquarters, ISPR said in a statement.

The visiting dignitary lauded the achievements of Pakistan Army in fight against terrorism.
COMMENTS (2)
Comments are moderated and generally will be posted if they are on-topic and not abusive.
For more information, please see our Comments FAQ