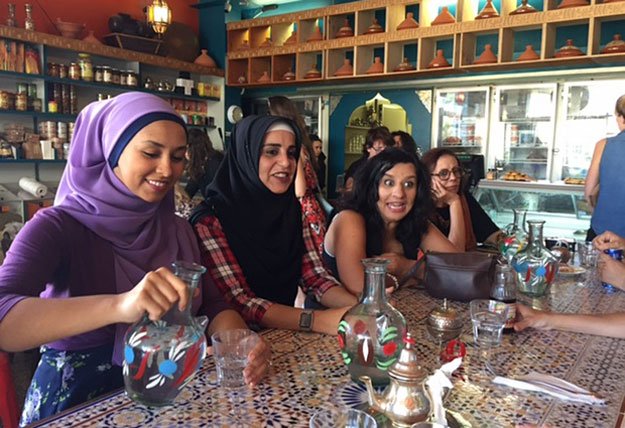 ---
An American Muslim woman has found a unique way to dispel myths about Islam by organising a speed-dating event, where members of the community have an opportunity to "ask a Muslim anything".

Hana Assafiri's speed-dating event is more informal than the conventional one where men rotate around the room and approach a different woman every few minutes when a timer goes off.

For Assafiri, owner of Moroccan Deli-Cacy, it is important to set the agenda for the rest of the country on how to create a cohesive community and have respectful conversations.

Young Muslim American fighting Islamophobia, one ignorant question at a time

"Nothing is off the table, and your questions can absolutely be frank and candid," Assafiri tells the group of about 30 men and women gathered around the tables at her restaurant.

"The only requirement is that we are all respectful. Respectfully, we can ask why people wear the hijab, do they sleep in it, do they shower in it. The point of this exercise is to break down the divisions that exist in this simplistic environment that only seeks to demonise and further marginalise Muslim women."

However, Assafiri makes it clear that each woman offers her opinion and is not speaking for Islam or Muslims as a whole.




She also touches upon domestic violence and abuse of women, saying, "There is nothing sacred about the abuse of women within Islam. If anybody puts forward a view that accepts the oppression, violation or subjugation of women, then that needs to be interrogated and rejected."

Assafiri's speed-dating event is more informal than the conventional one where men rotate around the room and approach a different woman every few minutes when a timer goes off. Over the course of an hour, men and women drift between tables and in and out of conversations with the Muslim women. Some discuss the Cronulla riots in Melbourne, while others speak about WikiLeaks and Julian Assange. However, very often the conversation can also turn very personal.

At one table, Husna Pasha, an Indian Australian and Muslim, related her story of arranging her own marriage to a devout and conservative Indian Muslim man at the age of 20. She thought by marrying her parents' version of the ideal man, they would be proud of her.

Hillary responds to question on Islamophobia with severe criticism of Trump

However, her husband's view of Islam was stifling her and after two years of marriage, she opened up to her father about being unhappy.

"Dad said to me, 'Did you think this is what we wanted for you? What would have made me proud is for you to be happy. We've made a really big mistake here. We've done the wrong thing by you. You may become the first divorcee in our family, but you need to get the hell out,'" she said.

"When he said that, it was like being reborn."

Another woman, Maria Dimopoulos, a diversity and gender equality consultant, remembers the first time she attended the Muslim speed-dating event. She recalls a man saying to her as he was leaving, "I will never look at Muslim women in the same way again."

"He had thought they couldn't think for themselves and all just obeyed their husbands. He was proven so wrong."

Dimopoulos says she had her own questions for the women.

"I had wondered whether Muslim women wearing a hijab in some way compromised feminism," she says. "And what I've learned is, of course it doesn't. It adds another dimension to feminism, it can be empowering."

Assafiri has so far only invited Muslim women to be asked questions by diners. "People say; 'Why not men?'" she said.

80 UK mosques to open doors to non-Muslims in bid to tackle Islamophobia

"For me, I work well with women, because I don't have to start from the position of challenging male ideology and conceptions of Islam. We start from a different premise. A lot of the Muslim women here I've known for years and years and they are generous and brilliant, and sadly they haven't been in the limelight. I want to give these women in our communities a platform."

Assafiri believes people cannot wait for a Martin Luther King or a Gandhi to address the divisions in the society.

"We must address it at the micro-level and take personal responsibility. Maybe we're not reaching the anti-Bendigo mosque types, but we're creating a model of starting genuine conversations that can be taken around Australia. We're creative and we're brave and we're trying," she said.

"And people can always learn more, can always be more sincere and more authentic."

Many took to Twitter, optimistic about the new speed-dating technique.


Hana Assafiri's "Muslim speed dating" where you can "ask a Muslim anything" at this Moroccan deli: https://t.co/LrhxZOzZKW

— Sarah English (@sarahienglish) February 8, 2016
The deli serving soup and sensitivity: dispelling myths about #Muslim #women one conversation at a time https://t.co/DpGLsN0ltg

— Philanthropy Age (@PhilanthropyAge) February 8, 2016
Changing attitudes one conversation at a time: thanx to #HanaAssafiri &all these women for your smarts & generousity https://t.co/rrj5vMPN9F

— quackademic (@26pglt) February 8, 2016

https://twitter.com/marion_maigrot/status/696628142811828224

This article originally appeared on Guardian