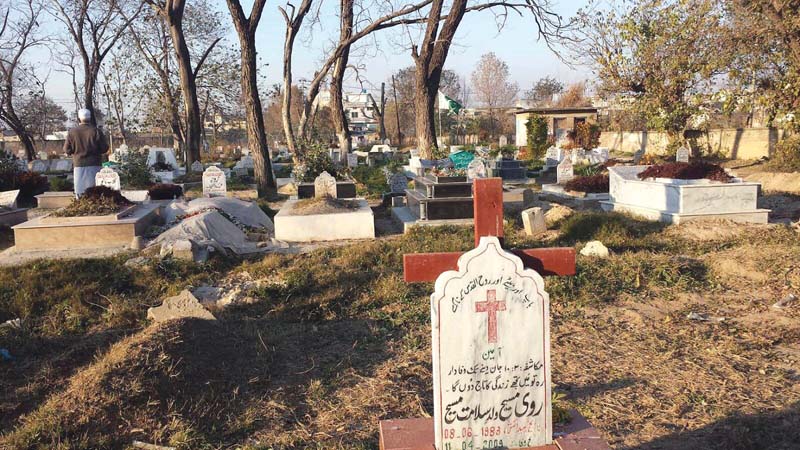 ---
ISLAMABAD: In a country where religion divides more often than it unites lies a small town where discrimination ends with death.

In Wah Cantt, the town largely famous for the Pakistan Ordnance Factories, is a cemetery where Christians and Muslims are buried in close proximity — with only the tombstones setting them apart. Around 50 kilometres from Islamabad, the small cemetery is known as the '26 Area Qabristan'.

Celebrating diversity: Hindus to hold conference for interfaith harmony

One grave here supports a tombstone inscribed with verses of the Holy Quran while another features a cross, making the resting place of a Christian. "People are divided along so many lines in Pakistan, be it ethnic or the differentiation between a Shia and a Sunni. This graveyard sets a perfect example of tolerance," says Muhammad Haroon Khan, whose uncle is buried in the cemetery.

"We've seen the graves of Ahmadis being desecrated in Lahore and in such a state of affairs having a place where there is no discrimination among religions of the dead is a sign of respect," he adds.

The graveyard, a frequent walkway for local residents, connects one side of the road with a small lane and is often used by residents as a shortcut. On any given day, the sight of a Christian family paying tribute to their departed loved ones alongside a Muslim boy tending the grave of his grandfather is not an unusual one.

Interfaith harmony: Diwali celebrations to bring all faiths together

"My grandfather is buried here and we often come to pay our respects, but we have never seen any problem among locals or any issue being raised about Christians buried here," shares Ali, a resident of the area.

Locals play a huge role in keeping things in order. The graveyard is quite old and so is the practice of burying Muslims and Christians alongside. "The graveyard is in a cantonment area, which is probably one of the reasons there has never been a dispute over burying Christians in the same cemetery," explains Muhammad Javed, another local whose father is buried there.

Sarfraz, who is in charge of the cemetery, tells The Express Tribune locals have always been open to the idea and have never considered this to be out of place. "There has never been an issue; all of them respect each other's faith."

Published in The Express Tribune, February 8th,  2016.

 
COMMENTS
Comments are moderated and generally will be posted if they are on-topic and not abusive.
For more information, please see our Comments FAQ