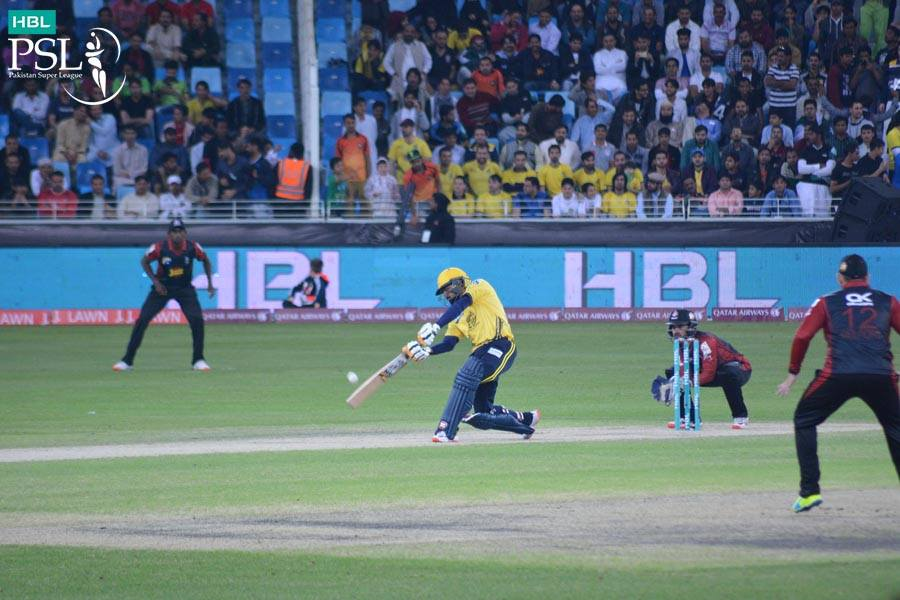 ---
Peshawar Zalmi thumped Lahore Qalandars by nine wickets in the fifth match of the inaugural Pakistan Super League (PSL) on late Saturday at the Dubai International Cricket Stadium.

Opener Tamim Iqbal scored his second consecutive fifty for Peshawar with his partner Muhammad Hafeez supporting him with a 37-ball 43 runs inning.

Ajantha Mendis was the only bowler to take a wicket for Lahore. He gave 23 runs in his full quota of four overs.

Earlier, Peshawar opted to bowl first unlike yesterday and restricted Lahore to a total of 117-6.

Dwayne Bravo (32 off 31) and captain Azhar Ali (31 off 41) were the largest contributors for Lahore. Meanwhile, Umar Akmal scored a humble 21 off 24.

For Peshawar, Muhammad Asghar - man of the match of their first fixture against Islamabad United - took two wickets in his four overs and gave away only 11 runs.

Junaid Khan, Shaun Tait and Wahab Riaz took one wicket apiece for Peshawar as well.

Post-match presentation

Most colorful innings award goes to Muhammad Hafeez.

Man of the match is Tamim Iqbal for his half-century.

Azhar Ali: We have play better cricket. Losing three wickets for four or five runs; from there on it was a disaster.

Shahid Afridi: The first six overs are important whatever you are doing first, batting or bowling. We have also set winning prizes for best fielder, so the guys are putting in a lot of effort. The [APS] kids are enjoying the stay here.




PES 118-1 (16 overs)

David Malan steals two runs and Peshawar bag their second win of the tournament. Lahore need to find a good combination soon to come back into the event.




Four runs off the first four balls and Peshawar need 3 more to win. Will Tamim go for a big strike? No, he takes a single.

Left-arm pacer Ziaul Haq is back.




PES 111-1 (15 overs)

FIFTY up for Tamim. Second consecutive half-ton for the Bangladeshi southpaw opener.




Chris Gayle is on now! Lahore expecting something from his bowling instead of batting.




PES 106-1 (14 overs)

Peshawar still going slowly towards the target. They are not pulling the kill-switch as of now. Just 12 more needed.

Ajantha Mendis starts his fourth and last over with a wide.




PES 100-1 (13 overs)

Three runs off the over and Peshawar need only 18 runs off 42 balls. Walk in the park!

Dwayne Bravo.




PES 97-1 (12 overs)

STUMPED! Hafeez jumps out but Mendis pushes it wide on off. Keeper collects and dislodges the bails. David Malan walks in!




Ajantha Mendis in for his third over.




PES 93-0 (11 overs)

FOUR! Played smartly by Tamim towards fine leg.




SIX! Hafeez again. This time he goes over cover. Takes a couple of steps forward, goes a little wide and clears the boundary.




SIX! Straight as an arrow by Hafeez. Two steps forward and you don't see a better straight drive than this.




Adnan Rasool is back for his last over.




PES 74-0 (10 overs)

FOUR! A powerful cover drive from Tamim.




Ajantha Mendis.




PES 67-0 (9 overs)

FOUR! Simply done. Fuller delivery and hit over the mid-off fielder by Hafeez.




FOUR! Slow ball and picked up early by Hafeez - a smart 'cookie' as Ramiz Raja likes to call him. Struck towards midwicket.




Dwayne Bravo continues.




PES 57-0 (8 overs)

Six runs off the over.

So Ajantha Mendis is in now. Can his 'carrom ball' create some magic for the Qalandars.




PES 51-0 (7 overs)

FOUR! That was a beautiful late cut by Tamim. He is one great Bangladeshi batsman.




Dwayne Bravo introduced into the attack now.




PES 43-0 (6 overs)

FOUR! Short and spins towards leg side. Tamim jumps on the opportunity and paddle sweeps it towards square leg.




Zohaib Khan.




PES 36-0 (5 overs)

Just three runs off the over.

Adnan Rasool into his third over on the trot.




PES 33-0 (4 overs)

The ball is spinning and Hafeez is finding it hard to connect the bat with the ball. A single to start the over and Hafeez has been dotting it from then on. Only one off it!

Zohaib Khan with his left-arm spin now.




PES 32-0 (3 overs)

STUMPING CHANCE! And Tamim is safe. His foot had just touched the ground when the bails were dislodged. Tamim gets the benefit of doubt.




DROPPED! Hafeez put down by Ziaul Haq at short square leg.




SIX! Hafeez dances down the pitch and clears the long-on fielder.




Adnan Rasool in his second over.




PES 23-0 (2 overs)

FOUR! A pick up shot and Tamim finds the square leg boundary.




FOUR! This one punched towards midwicket. Tamim dealing in boundaries at the moment.


FOUR wides!


FOUR! Tamim Iqbal goes over covers.




Ziaul Haq to bowl from the other end.




PES 6-0 (1 over)

FOUR! Hafeez smashes one towards cover region.




Mohammad Hafeez and Tamim Iqbal to open for Peshawar.

Adnan Rasool to start the bowling for Lahore.


LHR 117-6 (20 overs)


Another single and that is it. Peshawar will chase 118 runs when they come in to bat.

Single taken from long-on again.

Two more runs stolen from long-on.

DROPPED! Shaun Tait drops a difficult chance. He came running in from fine leg, went with two hands but the ball jumped in his cup. Two runs taken!




Single on the second ball.

Two off the first ball.

Junaid Khan with the last over.




LHR 108-6 (19 overs)

CAUGHT BEHIND! Kamran Akmal with a sharp diving catch. Bravo slashed hard at it but could only manage an edge to the keeper who bagged it brilliantly.




FOUR! Fuller delivery and Bravo goes inside out again. Wahab needs to find a new line to bowl to  Bravo.




SIX! Short and pulled bravely by Bravo!




Wahab comes round the wicket and is welcomes by an inside out shot from Bravo towards extra cover. FOUR on the first ball!




LHR 91-5 (18 overs)

Sliced and falls short of the fielder at third man, Wahab Riaz. Bravo survives!

Tait is bowling a perfect yorker line... and with that the fifth ball slips out of his hand and goes wide on leg; no damage done as Kamran stops it.

Shaun Tait now with the third last over.




LHR 85-5 (17 overs)

FOUR! Short ball by Wahab and Bravo pulls it to perfection.




Two dots followed by two wides.

Wahab Riaz is back now for his third over, round the wicket. Afridi shuffling his bowlers, not allowing the batsmen to settle.




LHR 76-5 (16 overs)

FOUR! Junaid comes round the wicket, bowls a fuller delivery outside off and Hammad slices it past point.




Junaid Khan replaces Shaun Tait.




LHR 66-5 (15 overs)

Phenomenal bowling figures from Asghar after four overs. Two wickets for just 11 runs.

OUT! Azhar Ali caught behind. Tries to cut and edges it to the keeper, Kamran Akmal. Hammad Azam joins Dwayne Bravo.




Muhammad Asghar with his left-arm spin.




LHR 63-4 (14 overs)

Azhar is beaten on the second ball, receives a short ball next up and guides it to fine leg for a single.

FOUR! Azhar Ali slaps it over covers. Tait gets a not-so-warm welcome.




Shaun Tait is back with his pace.




LHR 54-4 (13 overs)

Just four runs off the over and he has been turning the ball quite viciously. Just 18 off his four-over quota, a good job done by the captain.

Shahid Afridi has come on for his fourth and final over. Can he get a wicket here?

Change of commentators, Abdul Majid has joined Murtaza Abbas.




LHR 50-4 (12 overs)

Two from the over.

Wahab Riaz.




LHR 48-4 (11 overs)

Three runs from the over.

Afridi.




LHR 45-4 (10 overs)

OUT! Umar Akmal gets caught by the wicketkeeper.




Mohammad Asghar.




LHR 45-3 (9 overs)

Four from the over.

Afridi.




LHR 41-3 (8 overs)

FOUR! Umar Akmal smashes it to midwicket.




Mohammad Asghar.




LHR 35-3 (7 overs)

FOUR! Umar Akmal plays it straight through midwicket.




Afridi joins the bowling attack.




LHR 27-3 (6 overs)

FOUR! Azhar Ali slaps it past cover.




Wahab Riaz to attack from the other end.




LHR 20-3 (5 overs)

Just a single from the over.

Mohammad Asghar into the attack.




LHR 19-3 (4 overs)

FOUR! Umar Akmal places it straight down line for boundary.




Shaun Tait.




LHR 13-3 (3 overs)

Dropped! Junaid could have made it 9 for 4.




Junaid Khan.




LHR 8-3 (2 overs)

FOUR! Umar Akmal flicks it down leg for a boundary.




OUT! Rizwan gets caught by the keeper. Qalandars are in a real mess here.




FOUR! Rizwan drives it down leg side.


Shaun Tait


LHR 0-2 (1 over)

RUN OUT! Poor running from Delport. Walks back to the pavilion.




BOWLED! Chris Gayle goes for nought. Clean Bowled!




Azhar Ali and Chris Gayle to open for Lahore.

Junaid Khan to start the bowling attack.




Toss: Peshawar Zalmi won the toss and decided to bowl first.