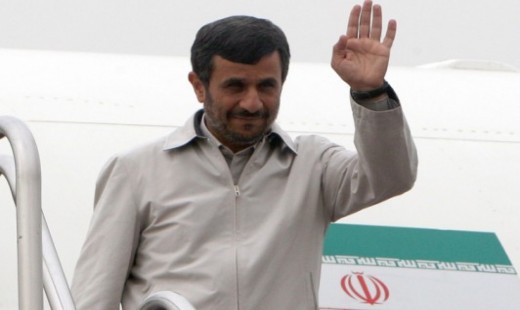 ---
TEHRAN: President Mahmoud Ahmadinejad said that the nuclear Non-Proliferation Treaty (NPT) has failed and Iran will propose changes, as he flew off to New York on Sunday to take part in a conference to review the NPT.

The hardline Iranian leader is to address the NPT conference on Monday, at the head of a delegation including Iran's atomic chief Ali Akbar Salehi and Foreign Minister Manouchehr Mottaki.

"The biggest threat to the world today is the production and stockpiling of nuclear weapons. For more than 60 years, the atomic threat has influenced world relations," Ahmadinejad told reporters before leaving for the United Nations in New York.

"The IAEA (International Atomic Energy Agency) in the past 40 years has not been successful in its mission. We have no disarmament or non-proliferation and some countries have even procured the nuclear bomb during this period."

Iran is a signatory of the NPT, a creation of the IAEA, the UN nuclear watchdog, and as such has the right to enrich uranium -- the most controversial part of its nuclear programme.

Uranium when enriched at over 90 percent level can be used to make an atomic bomb. Washington, its ally Israel -- believed to be the only undeclared nuclear weapons power in the Middle East -- and other world powers accuse Iran of masking a weapons drive under the guise of what Tehran says is a purely civilian atomic programme.

Ahmadinejad, who has refused to abandon the uranium enrichment programme and often lashes out at the NPT structure, said Iran's delegation would propose changes to the treaty during the review conference.

"This is an important meeting. For some time now, committees have been formed to undertake a fundamental revision (of the NPT) in order to achieve the aims for which the IAEA was formed," he said, quoted by Fars news agency.

"If this meeting is successful in making fundamental reforms to the NPT, it will be a big stride forward towards world security," he said.

Ahmadinejad is expected to defend Iran's right as a signatory to the NPT to master the nuclear fuel cycle, including uranium enrichment. He is also expected to urge other NPT signatories to pressure Israel to sign the treaty, at a time when Washington is pressing world powers to impose a fourth round of UN sanctions against Tehran for defiantly enriching uranium.

Ahmadinejad's press adviser Ali Akbar Javanfekr said Iran's "constructive" proposals should be heard by US President Barack Obama.

"The proposals are in line with the slogans of change that Mr Obama makes. If he still believes in what he says, he should welcome Mr Ahmadinejad's proposals," Javanfekr said, quoted by the official IRNA news agency.

Iranian foreign ministry spokesman Ramin Mehmanparast said Ahmadinejad's participation "gives us opportunity to elaborate on important ideas which can bring a better understanding of the conference."

But on Thursday, US Secretary of State Hillary Clinton warned Ahmadinejad that he will fail if he tries to disrupt the New York talks. "If President Ahmadinejad wants to come and announce that Iran will abide by their non-proliferation requirements under the NPT, that would be very good news indeed," she said.

But if he tries to "somehow divert attention from this very important global effort or cause confusion that might possibly throw into doubt what Iran has been up to ... I don't believe he will have a particularly receptive audience."

Even before he left for New York, Ahmadinejad's trip triggered controversy, with Iranian officials saying the United States had rejected visas for several members of his delegation.

Mottaki on Saturday accused Washington of holding the United Nations "hostage" by rejecting visas for an unspecified number of Iranian delegates.
COMMENTS
Comments are moderated and generally will be posted if they are on-topic and not abusive.
For more information, please see our Comments FAQ