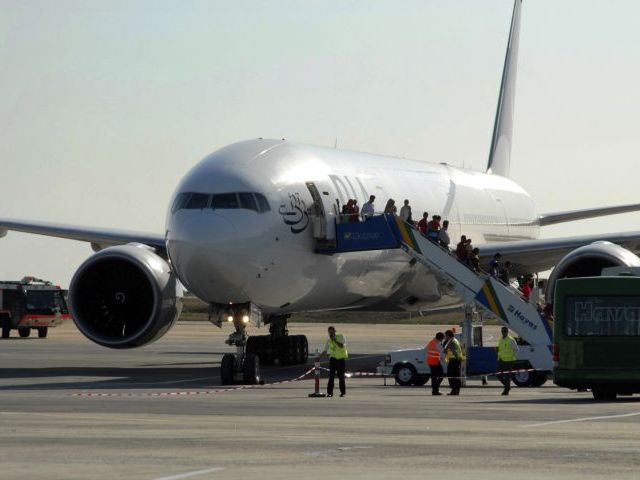 ---
KARACHI:



Some 72 hours into the strike and the cancellation of over 250 flights, it is clear that the government has been caught off guard as it struggles to counter the protest by Pakistan International Airlines (PIA) workers.




To compound matters, the government's failure to appoint functional heads of both the airline and aviation divisions has left it hobbling around with reactive ad-hoc steps. Far from a concerted strategy to circumvent the protest, the government has not been able to muster a resolution to the standoff.

Plan drawn up for new airline: official

As the PIA fleet remained grounded on Thursday, the Aviation Division and the Civil Aviation Authority (CAA) have been making last-ditch efforts, requesting other local and international carriers to spare aircraft to ferry stranded passengers.

"We weren't expecting Pakistan Airlines Pilots Association (Palpa) to side with other unions. Their decision to walk out has caught the government by surprise," a senior official conceded.

Besides pilots, PIA's overhaul and line maintenance engineers have also refused to end their boycott following the death of one of their colleagues during a protest rally in Karachi on Tuesday.

"There have been many protests in the past, but never before did we bury one of our own," said an engine overhaul supervisor.

"Everyone is demoralised…even those working in the management."

Airfares take off when PIA doesn't

The airline industry is one of the most tightly regulated businesses. Pilots, engineers, technicians and anyone working on an aircraft have to go through years of training to secure the necessary certifications. Any leniency taken with these regulations, as decided by International Civil Aviation Organisation (ICAO), IATA and others, could result in serious ramifications for airlines.

One of the regulations states that the engineer who approves the aircraft before a flight must not be under any mental stress – its vagueness can corner managements.

"How do you expect us to work without stress when they have spilled the blood of one of our own?" the engineer asked.

When the government ran into trouble with PIA pilots last year, it had threatened to get air force pilots to fly the planes. But with the engineers going on strike this time, the government is in a fix to repeat that threat since none of the other domestic airlines operate Boeing 777s, Airbus 310s and ATRs which PIA flies.

An Aviation Division official hinted at the possibility of seeking help from ground engineers of foreign carriers stationed in Pakistan, but couldn't confirm whether such a request had been made.

With PIA off track, Railways earns extra

At the moment, it seems as if no one is negotiating with PIA staff. The last time the national carrier's employees went on a major strike in 2011, the airline's then managing director, Aijaz Haroon – a pilot and a career PIA employee -- managed to get enough staffers to keep the airline in the air.

"Since he had risen through the ranks over the years working as a manager, general manager and then director, he had his people…his own team to break the ranks of protesters," explained an official who had worked with Haroon.

But things are different this time round. With PIA Chairman Nasser Jaffer resigning after two staffers died during the protests, there is no one who is trying to negotiate with union leaders. It doesn't help matters that some of the union leaders are currently believed to be in the custody of law enforcement agencies.

While getting the grounded PIA fleet back in the air sans the striking staff is proving to be a tall order, aviation authorities have managed to convince Air Blue and Shaheen Air to operate nine extra flights to fly stranded PIA passengers to Dubai, Muscat, Jeddah, Riyadh and some domestic destinations.  The CAA has also allowed Vision Air's old cargo Boeing 737 to be re-configured with passenger seats and put into service by Shaheen Air.

Despite the moves, several areas -- such as Skardu -- remain un-serviced since no domestic carrier apart from PIA flies there.

Published in The Express Tribune, February 5th, 2016.