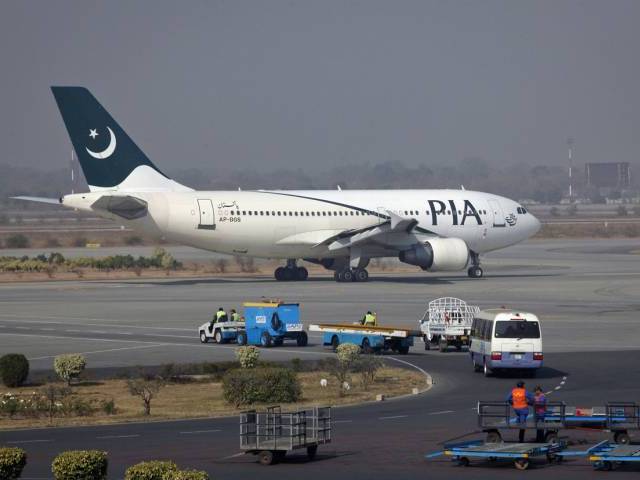 ---
KARACHI: The trouble of privatising Pakistan International Airlines does not centre around laying off employees per se - it has everything to do with its loss-making status. The company is technically bankrupt according to external auditors as total liabilities exceed total assets by over Rs179 billion up till January 1 2016 and total accumulated losses are towering at Rs254.6 billion.

The entity requires bold decisions to restore administrative and financial discipline within the top management and a policy of zero tolerance for any conflict of interest.

No to privatisation: Thousands stranded as PIA workers' strike continues

The question arises as to how Chairman Nasir Jafar could justify leaving for Paris to attend the PIA investment board meeting with the airline struggling in this crisis period. He has now announced his resignation.

Before proceeding, Jaffer signed an agreement worth $21 million for the purchase of enterprise resource planning systems (ERP). This software will integrate the finance, administration and engineering modules.

However, this system requires highly trained and qualified professionals which PIA lacks. Additionally, taking into account the under utilisation of computerised revenue management and reservation system where online sales have been restricted to just 1% against the industry practice of 70%, this may only add to the liabilities.

The status quo as it persists cannot be maintained unless the federal government continues to dole out billions directly or through sovereign bank guarantees.

Govt bans union activity to prevent PIA strike 

PIA was formed in 1954 to serve as a service oriented industry dedicated to providing affordable travel to its revenue paying passengers by a team of dedicated professionals.

However, successive governments have been abusing PIA, treating it as a 'spoils of war' and not a national asset owned and funded by tax payers.

How to fix PIA

What PIA needs is an honest and professional hands-on management and all transactions subject to transparency and strict audit with emphasis on improving human resources and weeding out inefficient members who dominate its top management.

There should be a zero tolerance policy for employees with fake degrees or those with criminal records or any administrative and financial indiscipline. Priority in employment should be for those holding singular Pakistani nationality so that unemployment is addressed and those involved in misconduct or irregularities can be held accountable, not seek refuge in another country.

PIA's depleted human resources needs to be improved to handle competitive demands of an industry subjected to strict regulatory controls.

A leaf from history

Problems of PIA started when Air Marshal Nur Khan was forced to resign because of interference by Zia Junta. Both Rafique Saigol and Nur Khan were able to deliver PIA from the mess of mismanagement because PM Bhutto gave them a free hand and Nur Khan resisted political interference.

PIA strike: Great people to be grounded with

Since then, every government has added to PIA's losses and is responsible for recruiting surplus employees who did not meet minimal criterion. Revenue pilferage has been on the rise with nexus of corrupt officers and few travel agents resorting to cartelisation, creating artificial shortage of seats, while patronisation of corrupt ruling political elite resulted in huge kickbacks in procurement and choice of fleet induction.

As long as PIA carried bulk of domestic and international passenger traffic and cargo, it was able to absorb losses. However, over the years, especially from 2006 onwards, this crisis has become very acute.

PIA's revenue generation and airline travel facility lured many vultures and every government insisted that its unqualified cronies be accommodated while demanding free passages and other privileges for others.

Bilateral agreements are principle on which traffic rights are negotiated and traded between independent states to safeguard their own industry. Unfortunately, successive governments since 2006 have obliged airlines owned and operated by Gulf States to upset the balance that existed.

There exists a passenger revenue market of 12 to 13 million passengers within Pakistan with an average growth rate of 7 to 8% per annum. In 2006 Gulf based airlines operated only 90 flights weekly but by 2012 Gulf based airlines were operating 210 flights weekly and in 2015 their share had risen to 385 per week.

PM sees political parties behind PIA strike

Another factor that contributed to offsetting this balance to the detriment of PIA was gross mismanagement and massive corruption by cronies such as the controversial signing of procurement contracts like Transworld FZE based in Dubai with first right of refusal for supply of essential spare parts, cancelling all other manufacturer recommended vendors located along network.

This resulted in rise of maintenance cost and effectively led to grounding half fleet.

In May 2008, PIA's total accumulated losses stood at Rs42.4 billion and by the end of 2013 they had risen to Rs190 billion.

Solution

PIA can reduce total operating cost by ensuring that online direct sales are promoted to at least 60% so that part of 9% commission paid to travel agents can be passed on to passengers.

During January to September 2015, PIA saved Rs16.28 billion on fuel costs, yet its passenger revenues fell from Rs85 billion during the same period in 2014 to Rs80 billion. This is because PIA's total operating costs have risen with additional fleet inducted and no prior homework done to regain their lost clientele.

Day 2: All flights grounded as PIA staff refuse to budge

PIA can reduce total operating cost by ensuring online direct sales are promoted to at least 60% so that part of the 9% commission paid to travel agents can be passed directly to passengers, which can help it become more competitive.

It is not just successive governments but every management at the helm which is responsible for systematic destruction of PIA.

Standard aviation practice is that a business plan be prepared and vetted by airlines with detailed revenue generation based on passenger traffic growth and operational crew trained to enable airline to pay back installments over a specified period of time before any approval is given by Board of Directors to induct any aircraft.

Yet current management aware that there already exists a surplus capacity as compared to actual number of revenue passengers went ahead to induct more A320s which they could not be utilised for at least six months because the crew was not trained.

Plans to induct A330 must be delayed till such time when PIA regains its lost traffic, which cannot occur unless the government reviews traffic rights granted to foreign airlines. 

Published in The Express Tribune, February 4th,  2016.

Like Business on Facebook, follow @TribuneBiz on Twitter to stay informed and join in the conversation.