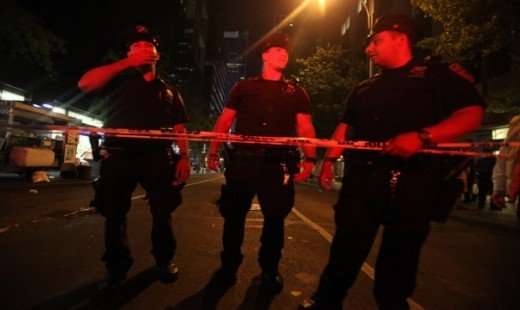 ---
A car bomb that threatened a "very deadly event" failed to go off Saturday in the heart of New York's Times Square, Mayor Michael Bloomberg said on Sunday.

"We are very lucky... (to) avoid what could have been a very deadly event," Bloomberg said at an impromptu press conference. "The bomb squad confirmed that the suspicious vehicle indeed did contain an explosive device."

Bloomberg also said that the bomb was homemade and "looked amateurish" but "certainly could have exploded." New York Police Department (NYPD) Commissioner Raymond Kelly said the device consisted of three propane tanks, consumer-grade fireworks, two gasoline containers, wires and two clocks.

Times Square, one of the busiest areas of New York, remained under police lock down hours after the incident as security forces entered a huge manhunt for the driver of the dark green Nissan Pathfinder.

"We do not know who drove the car," Bloomberg said. "We have no idea who did this or why." Kelly said that the Nissan with tinted windows had license plates belonging to a different vehicle and had been caught driving in the area just before the incident.

Police began "observing white smoke inside and coming out of the rear of the vehicle," Kelly said, and "began to clear pedestrians." Fire fighters, then bomb squad staff were called in.

No detail was given on how the components were meant to have fitted together and whether the clocks were used as timers.

The bomb scare raised tensions across the United States where security forces have been on edge since a Christmas Day alleged attempt by a Nigerian man to set off a bomb on a US airliner.

The man allegedly had hidden explosives in his underwear and the device failed to ignite properly before he was overpowered in mid-flight.

The White House said that President Barack Obama was briefed "on the excellent work by the NYPD in relation to the incident in Times Square" at about 10:45 pm Saturday (0245 GMT Sunday).

"The president commended the quick action by the NYPD and asked John Brennan to communicate to NYPD that the federal government is prepared to provide support," White House press secretary Robert Gibbs said in a statement. Brennan, who is the president's deputy national security adviser, is working with the NYPD and others and will continue to keep the president up to date on the investigation, the White House said.

New York City police are on constant alert after a string of terrorist plots and alleged plots in the wake of the September 11, 2001 attacks. In December they closed Times Square while inspecting a van at first feared to contain a bomb, but which turned out to be carrying nothing dangerous.

In February, Afghan immigrant and self-confessed al Qaeda agent Najibullah Zazi pleaded guilty to a plot to set off bombs in New York's subway system.

The 25-year-old could be sentenced to life in prison after pleading guilty to conspiracy to use weapons of mass destruction, conspiracy to commit murder in a foreign country and providing material support to the al Qaeda Islamist network.

Last year, four New Yorkers went on trial in an alleged plot to bomb a synagogue in the city and shoot down military planes.

Nearly 3,000 people died in the 9/11 attacks when airliners hijacked by Islamist suicide squads slammed into the Twin Towers of the World Trade Center in Manhattan, demolishing both sky scrapers.

In Alexandria, Viginia, IntelCenter, a group that monitors terrorist activities, said the attack in New York City's Times Square was a "significant terrorist event." But the center said it was "too early to determine" the group or individuals behind the attack.
COMMENTS
Comments are moderated and generally will be posted if they are on-topic and not abusive.
For more information, please see our Comments FAQ