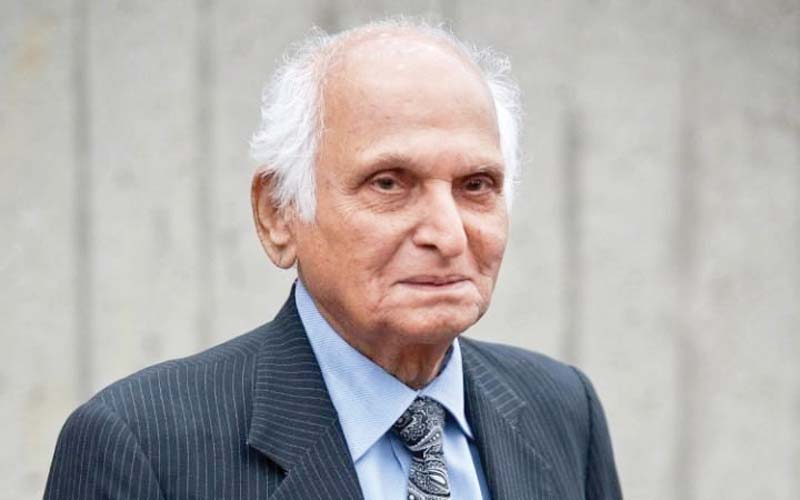 ---
KARACHI:



"I am a seller of dreams." This is how Intizar Hussain once responded, when he was asked to describe his trade. That seller has now taken his leave and one wonders, what dreams may come now?




For decades, Hussain's presence was almost a given. His permanence in the literary circuit tricked us all into the disbelief that a day might never come when the language and its milieu will be orphaned. The writer, translator and scholar remained a lynchpin between the past and the present; the classical and the contemporary; the mundane and the imaginative.

Hussain was born December 21, 1925 in the United Provinces, India. When the idea of Partition was trumpeted, there were many amongst Indian educated youth and writers who fancied the concept and, driven by optimism, boarded the train to Pakistan. While the turbulence of subsequent years disillusioned some to a great extent, the fall of Dhaka made regret bleed into their writings. All his life, Hussain too was unable to escape the remorse of deserting his homeland, his jamun and imli trees.

Over a writing career that spanned an era, Hussain wrote five novels and published seven collections of short stories. He worked with both Imroze and the daily Mashriq, and till his death, contributed to Daily Express and Dawn. His language was simple and his writing style was rather journalistic. Hussain's expertise over Indian mythology was unparalleled and his works reflect his love for classical metaphors and religious themes. Al-Andalus was his El Dorado. His novel, Agay Samadar Hai, derives heavily from Iqbalian depictions of Muslim Spain. Basti, Tazkira, Zameen Aur, Falak Aur and Sheher-e-Afsos were amongst his other notable works.

Veteran Urdu fiction writer Intizar Hussain passes away at 92

"I have no doubts in saying that there was no one like Hussain, and no one will be," says renowned playwright Asghar Nadeem Syed, who knew the writer for over 40 years.

Although recent years haven't been the best of times for Urdu, 2013 saw Hussain bagging a nomination for Man Booker International Prize; never before was a writer of Urdu recognised this way. "He introduced us on the global level," Syed adds.

The nomination was followed by the French government awarding him with the Ordre des Arts et des Lettres in 2014.

In noted critic Asif Farrukhi's words, not many writers had the courage to grab the bull by the horns, but Hussain was cut from another cloth. "Be it Basti or Sheher-e-Afsos, he worked miracles with subjects that others were scared to write about." To Farrukhi, Hussain stands as the writer who revived the art of storytelling in our part of the world.

On its seventh leg of journey, KLF to award Urdu fiction, non-fiction works




Actor Rahat Kazmi concurs with Farrukhi. He first met the late writer in Lahore during the former's time with PTV. "Even if you didn't know him personally, you cannot escape him. He was brilliant," he says. Kazmi feels the late writer's ability to pen memories and also say goodbye to them sets him apart. "He really knew how to spin a tale."

In Urdu Adab Ki Mukhtasir Tareen Tareekh, Dr Saleem Akhtar notes that Hussain's romance with nostalgia is in real a lamentation of the loss of cultural values from the society. He never carried a cell phone and was adamant that computers were not invented for him.

A proponent of the traditional school of thought that was helmed by scholar Muhammad Hasan Askari, Hussain never subscribed to the agenda of the Progressive Writers' Movement and in Dr Akhtar's words, had more of an inclination towards symbolism.

Author showcases journey of three faiths through Jerusalem

Eruj Mubarak is the son of eminent writer Mubarak Ahmed, a longtime companion of Hussain. Eruj was at Hussain's bedside during the latter's last days and in a text message written on January 29 from the hospital, he had said, "He is not getting better."

Hussain used to visit the Mubarak residence every Thursday, and continued the practice even after the death of Ahmed. "He was my father's best friend. He really lived life to the fullest," says Eruj.

Most of Hussain's works were published by Sang-i-Meel Publications. Afzal Ahmad of the publishing house, says, "He was already famous before we put out his first book. Being a bestselling writer and a good writer are two separate things. He was both."



-With additional input from Saadia Qamar and Saleha Rauf

Published in The Express Tribune, February 3rd,  2016.

Like Life & Style on Facebook, follow @ETLifeandStyle on Twitter for the latest in fashion, gossip and entertainment.