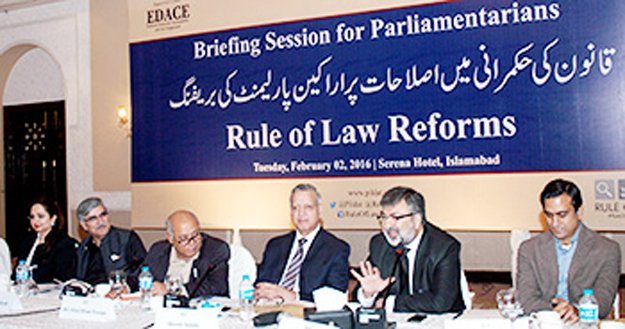 ---
ISLAMABAD: A reform agenda on rule of law was presented to parliamentarians at a briefing session titled 'Strengthening Rule of Law in Pakistan' on Tuesday at a local hotel.

The session was organised by Pakistan Institute of Legislative Development and Transparency (Pildat) and its Rule of Law Committee of Experts presented the proposed agenda.

The key points presented and highlighted during the session included allocation of funds and increase in budget for police, amendment in section 154 of Code of Criminal Procedure 1898, FIRs to be made simple and computerised, no arrest to be made on FIR without evidence, protection of witnesses through enactment of relevant laws, establishment of legal aid authority and enactment of the Public Defender and Legal Aid Office Ordinance.

Former IGP Dr Shoaib Suddle said it was unfortunate that Pakistan as a nation has a huge appetite to misuse police. He said this was a reason why police was not reformed. Once reformed, it will stop benefiting particular groups, he said. "We have to clarify the role of state and change certain laws to ensure that police reform takes place. The laws that affect the police are practically since the colonial legacy. Even though there was an attempt to bring a change, it has not yet come," Suddle said while stressing that it was responsibility of government to provide an adequate police force.

Advocate Ayesha Hamid said there was a need for the prosecution department to be actively involved with police investigations. "This would mean that the prosecution service would be able to deal much more appropriately in the court," she said.

Former SSP Muhammad Ali Nekokara emphasised the need for a national database that includes all kinds of data pertaining to residences, driving licenses, criminal acts and other important data.

"This data should be linked with the NADRA database. This kind of technological support is extremely important to make police functions successful," he said.

Published in The Express Tribune, February 3rd, 2016.
COMMENTS
Comments are moderated and generally will be posted if they are on-topic and not abusive.
For more information, please see our Comments FAQ