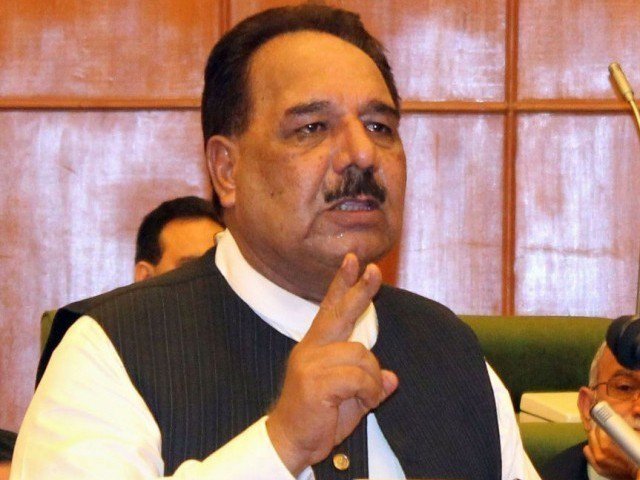 ---
MUZAFFARABAD: In a bizarre yet telling incident of the strained relationship between the bureaucracy and the executive, the prime minister of Azad Jammu and Kashmir (AJK) Chaudhry Abdul Majeed reportedly slapped an officer of the Mirpur Development Authority (MDA) for his alleged failure to address public complaints, only to call him back to his office and offer an apology when the official threatened to expose the premier and his sons for their alleged corruption.

The incident that took place at the PM's residence in Mirpur on Saturday could best be described as an apparent patch-up of convenience between a bureaucrat who has failed to deliver and an executive running short of ideas.

AJK PM condemns India's decision to dispatch more troops to Indian Kashmir

Official sources and an eyewitness told The Express Tribune that the rebuke saw the MDA officer threaten the prime minister of spilling the beans about him and his sons' involvement in the affairs of the civic agency and alleged wrongdoings during the last four-and-a-half years.

The sources further said that the MDA Estate Officer Imran Shaheen tried his best to give clarifications but in response he received a slap from the prime minister in the presence of other officers who were present at the meeting.

Witnesses, including a senior official who was present at the meeting, told The Express Tribune on the condition of anonymity that Shaheen pointed out that he was helpless because Majeed and his sons were involved in corruption.

Shaheen also said that "very soon everyone would know who the main hurdle was in the way of merit at the civic agency".

Two top clerics come to blows at CII meeting

The sources said that both the PM and the official exchanged harsh words.

An eyewitness said that Majeed later rushed Mirpur Divisional Commissioner Amjad Pervez Ali and DIG Sardar Gulfaraz to make peace with the officer after he left the meeting in a huff.

The sources said that it took almost three hours to achieve reconciliation.

Later, the sources confirmed that after long negotiations Shaheen returned to the PM's residence where Majeed apologised to him.

Upon his return, Shaheen was warmly greeted by the PM who reportedly said to him, "You are like my sons. You only get angry at someone whom you love."

The MDA has long been at the centre of allegations and controversy for mismanagement, favouritism and other unlawful practices in connection with allotments, cancellations and re-allotments of plots without any merit. The present post of Shaheen in MDA is considered very lucrative.

Mirpur is home to hundreds of thousands of overseas Kashmiris, most of them living in the United Kingdom.

Published in The Express Tribune, February 1st,  2016.