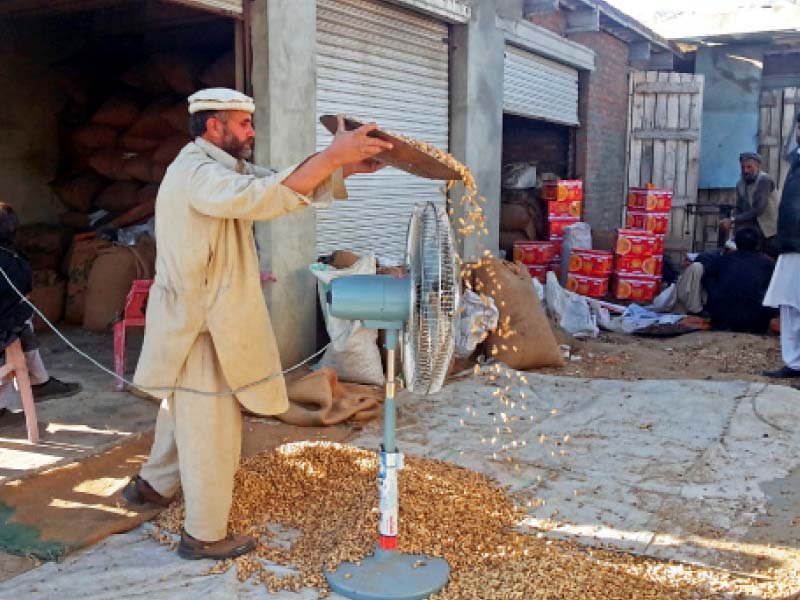 ---
MINGORA:



Demand for dry fruits increases as a biting chill creeps into the air during winters in Swat district. From a wide variety of dry fruits available in the region, peanuts are known as the "charm of winter season."




When compared to other dry fruits, peanuts are the cheapest dry fruits that are equally nutritious and palatable. Their production increases in the winter season and around 200 varieties of peanuts are available in Swat. People usually install handmade stoves in wooden carts where they bake peanuts in a large container with salt and spices. Many vendors serve passers-by hot peanuts on these wooden carts on Mingora Bypass Road near Boni. They shell and grind the nuts and cook them with salt and other flavours for half an hour.

Guide to going healthy with nuts

Muhammad Ali, a peanut vendor, told The Express Tribune people crave hot and spicy peanuts in the chilled weather and since their price is economical, the demand is high.

"Children, particularly, prefer to have these nuts in winter," said Shazia, a tourist from Karachi. The largest market for peanuts is in Malakand Division where sales amount to Rs0.15 million annually. A kilogramme of peanuts is sold at Rs150 and people usually buy large stocks.

Published in The Express Tribune, January 31st, 2016.