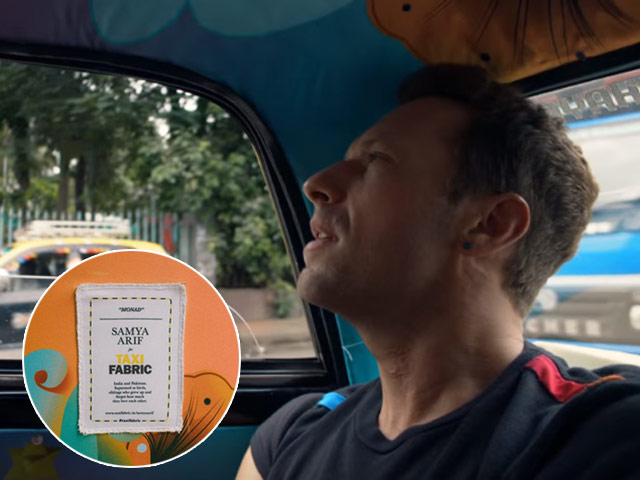 ---
Coldplay's newest single, Hymn For The Weekend, not only features Bollywood actor Sonam Kapoor and Beyonce but also a taxi designed by Pakistani artist Samya Arif.

When Samya was called on board for Taxi Fabric's Independence Day project, little did she know that her art would be featured in Coldplay's newest single, but there it is in multiple snippets throughout the video.

Sankeet Avlani, who initiated the Taxi Fabric project in Mumbai, uploaded a screenshot of Chris Martin seated in the taxi designed by Samya and tagged the Pakistani designer in his Facebook post.

[fbpost link="https://www.facebook.com/photo.php?fbid=10153874108381873&set=p.10153874108381873&type=3"]

A taxi in India will transport you to Pakistan and back

Soon enough, she took to Facebook to express her excitement. Overjoyed, she thanked Taxi Fabric and Sankeet for changing her life "for the best".

[fbpost link="https://www.facebook.com/samya.arif/posts/974154265992008"]

Pakistani artist gives Mumbai taxi a makeover

The four minute-long music video features the taxi a number of times times in short sequences. In fact, the video kick starts with Chris Martin seated at the back of the taxi designed by Samya.




Fans and friends were just as ecstatic as Samya about her design being featured in the British band's latest single.

The art you see on the inside of this taxi was designed by a Pakistani artist, Samya Arif. Too brilliant! #ahfod pic.twitter.com/jOFBNNa3es

— Maham Nasir (@lightermachis) January 29, 2016
.@samyarif taxi fabric illustrations in Coldplay's new video. How cool is this. pic.twitter.com/7G9bLnXbWa

— Y (@yumnna) January 29, 2016
@TaxiFabric @coldplay @Beyonce @sonamakapoor I was just watching the video & thought THAT HAS TO BE TAXI FABRIC! So cool.

— Hannah B. (@HistoryHannah) January 29, 2016
Suffered through Coldplay's new music video, only to watch Chris Martin singing in the taxi designed by @samyarif. Happy for her regardless!

— Saavik (@ZainabMarvi) January 29, 2016


Here's the video:


COMMENTS (4)
Comments are moderated and generally will be posted if they are on-topic and not abusive.
For more information, please see our Comments FAQ