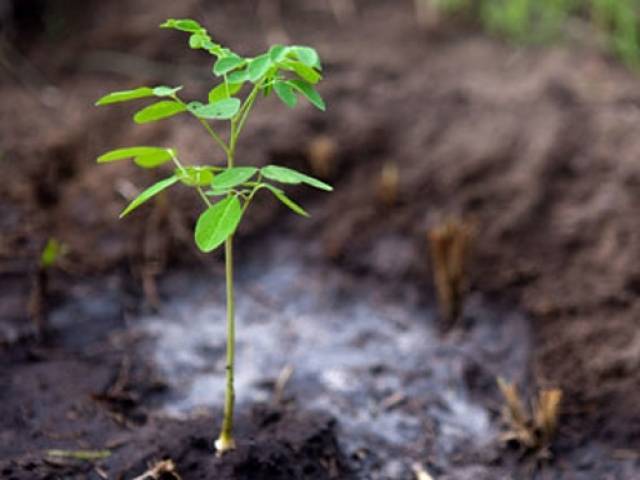 ---
ISLAMABAD:



An interministerial and interprovincial committee has set a target of planting 159 million trees across the country in the upcoming spring season.




The countrywide plantation drive will kick off from February.

The target was set at a meeting chaired by Climate Change Secretary Arif Ahmed Khan, after taking input from representatives of all provincial forest departments and other federal ministries.

Inspector General of Forests Mahmood Nasir told the meeting that as per targets set by provincial and federal governments, the highest number of trees — 123 million — would be planted by the Khyber-Pakhtunkhwa forest department.




Nasir told the meeting that Punjab will plant 18.09 million trees, Sindh 7.1 million, Balochistan 1.5 million, Azad Jammu and Kashmir 1.3 million, Gilgit-Baltistan 1.1 million, FATA 4 million, Capital Development Authority 0.3 million, National Highway Authority 0.125 million, Ministry of Defence 700,000, Heavy Industry Taxila 5,000, Pakistan Ordinance Factory 15,000, Pakistan Tobacco Company 1.5 million and IUCN will plant 250,000 trees during the plantation drive.

The meeting also reviewed the last year's tree plantation targets by provincial forest departments and other provincial and federal departments.

Nasir told the meeting that a target of 40.2 million trees had been set last year, of which, nearly 81 per cent (32.5 million trees) target has been achieved with a survival ratio of 72 per cent.

The climate change secretary said that as predicted by the Met Office, the coming spring season will have good rains in the country. "Hence, it does provide an opportunity to plant as many trees as possible all over the country to deal with various environmental problems and mitigating climate change risks," he said.

"All-out efforts should be taken to gain full advantage of the spring season by planting trees on a large-scale. The wet spring season provides trillions of litres of water for seedlings to grow quickly and root themselves in the soil," he said.

Pakistan cannot cope with climate risks, particularly floods and torrential rains, which have become increasingly frequent due to global warming, without increasing tree cover, the meeting noted.

The meeting urged provincial forest departments and ministries to take necessary steps to achieve the tree plantation target.

The provincial forest department officials told the meeting that special media campaigns have been hammered out to engage the public, educational institutions, government departments, corporate and non-governmental sectors to apprise them of the tree plantation drive and its environmental benefits.

The meeting also called for the need to frame land use policies and their implementation at the provincial level to discourage rampant conversion of forest and agriculture lands into other uses such as the construction of housing societies.

Assistant Inspector General Forests Aurangzeb Ashraf Awan said that legislation was inevitable to save the existing forests and reinvigorate the country's ailing forest sector.

Published in The Express Tribune, January 30th,  2016.