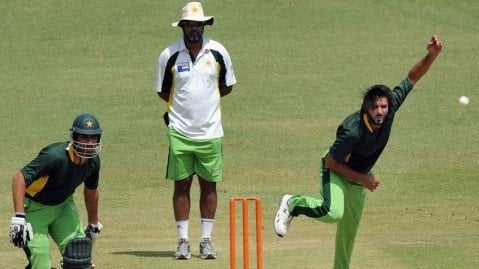 ---
LAHORE: Bookies have issued a list of the most-favourite teams for the World Twenty20 with Australia placed on top and defending champions Pakistan occupying fifth spot.

According to the list, available on different betting websites, South Africa holds second place, India third and Sri Lanka fourth. Trailing behind these are England (sixth), hosts West Indies (seventh), New Zealand (eighth), Bangladesh (ninth), Zimbabwe (tenth), Ireland (eleventh) and debutants Afghanistan (12th).

According to the bookies' rates, Australia is Rs 4.9, South Africa attract a rate of Rs 5.8, India Rs 6.2, Sri Lanka Rs 7.8 while Pakistan's rates are Rs 9.6 for winning the tournament. The rates imply that if Australia, for example, wins the tournament, a person who has placed one rupee on that team would be awarded Rs0.49. The bookies have also issued the rate list of the highly-fancied players with the Australians, Sri Lankans, South Africans and the Indians featuring prominently.

For Pakistan, captain Shahid Afridi and Mohammad Asif have been rated highly as bowlers while the Akmal brothers remain favourites as batsmen. The rates are fixed based on team and the player performance in previous matches and the higher number of bets placed on a team will ultimately improve its position in the list of favourites. With the increased use of the internet, more and more people are using betting websites which also helps them evade the police and carry out their activities without being noticed.
COMMENTS (2)
Comments are moderated and generally will be posted if they are on-topic and not abusive.
For more information, please see our Comments FAQ