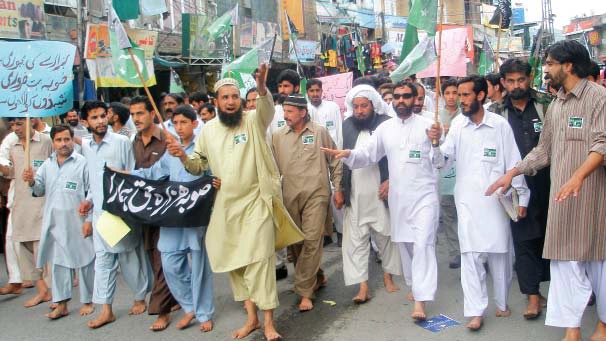 ---
ABBOTABAD:

A complete shutter down strike is being observed in Abbottabad and other parts of Hazara region on the call of Hazara Province Movement on Sunday.




Numerous rallies have been planned in Abbottabad as demonstrators want to raise their voices against rechristening of former NWFP to Khyber Pakthunkhwa.




Thousands gathered at the Fawara Chowk in Abbottabad to express their solidarity with the Hazara Province Movement.




Several roads including the Karakoram Highway were blocked at the occasion.




The shutter down strike came just weeks after several people were killed and scores other injured in violent clashes across the region, as the Parliament voted to rename the province.


Addressing journalists here on Saturday, convenor of the movement Sardar Haider Zaman said that arrangements had been finalised to hold a peaceful protest, adding that all commercial and business centres would remain closed and all vehicles would be kept off roads. The Hazara Action Committee, meanwhile, announced to stage protest rallies every Friday to press for their demands.

A grand jirga, chaired by Haider Zaman, was earlier held to chalk out a strategy. Leaders of the Hazara Tehreek also attended the meeting. Former Speaker of the National Assembly Gohar Ayub Khan would lead a procession from Haripur while former Nazim of Mansehra district Sardar Muhammad Yousaf would lead a procession originating from Mansehra district.

Media coordinator for the Hazara Tehrik Dr Azhar Jadoon said that they were planning to hold a protest rally on Sunday, gathering people from all over the Hazara division in Abbottabad, adding that trade and transport organisations had assured them of their full support. He said that the Tehrik was also planning to stage a long march on to Islamabad at a later date. Meanwhile, Hazara Range's Deputy Inspector-General of Police Dr Suleman also held a meeting with key people of the area, who told him to keep the protest peaceful.

He said that a meeting with leaders of the Tehrik was also held so that to avoid any mishap. He urged members of the reconciliation committee to play their role. The protests, which started about a month ago, are still continuing all over the Hazara division.
COMMENTS (3)
Comments are moderated and generally will be posted if they are on-topic and not abusive.
For more information, please see our Comments FAQ