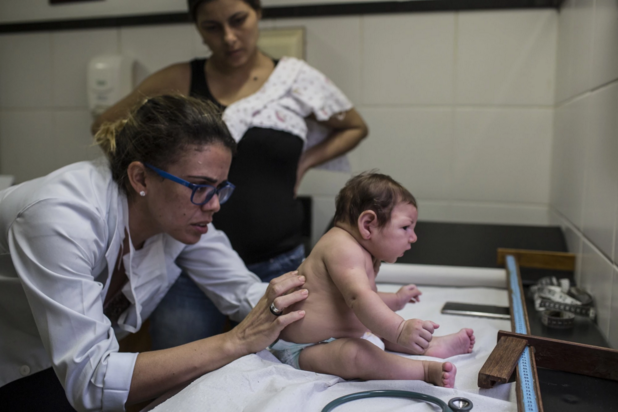 ---
BOGOTA: Women in El Salvador and Colombia are being cautioned to avoid pregnancy due to the potentially dangerous Zika virus, but little access to contraception or abortion and pregnancies from rape leave many women unable to heed that advice, campaigners say.

The recommendations by health ministers in the two Latin American nations come after a surge in cases of babies born with severe brain defects in Brazil, which experts believe are linked to the mosquito-borne Zika virus spreading through the region.

Baby born in Hawaii with brain damage confirmed to have Zika infection

Alejandro Gaviria, Colombia's health minister, called on women to delay pregnancies six to eight months.

"We are doing this because I believe it's a good way to communicate the risk, to tell people that there could be serious consequences," he said.

In Colombia, which has the second-highest Zika infection rate after Brazil, there are 560 known cases of pregnant women infected with the virus.

Jamaica, which has not reported any confirmed cases of Zika, also has recommended women delay becoming pregnant.

Battle continues against dengue, diphtheria

Leading women's rights campaigners criticized the recommendations, saying women in the region often have little choice about becoming pregnant.

"It's incredibly naive for a government to ask women to postpone getting pregnant in a context such as Colombia where more than 50 percent of pregnancies are unplanned and across the region where sexual violence is prevalent," said Monica Roa, vice president of strategy for Women's Link Worldwide, a global women's rights group.

Contraception in Colombia is provided free but women, particularly in impoverished rural areas, have little access, the Colombian activist told the Thomson Reuters Foundation.

Influenza virus : NIH issues advisory for locals

Many women also do not know they can get an abortion in Colombia under certain circumstances, she said.

"In a crisis like the Zika outbreak, the lack of sexual education is exposed," Roa said. "Health ministries should inform rather than recommend."

In El Salvador, where the health ministry is advising women to postpone pregnancy until 2018, official figures show 96 pregnant women are suspected of having contracted the Zika virus.

As in Colombia, little or no sex education in schools in El Salvador means girls lack information they need to avoid unwanted pregnancies, activists say.

Crippling virus: New polio case confirmed in Peshawar

El Salvador has one of the highest rates of teenage pregnancy in Latin America, with girls aged 10 to 19 accounting for about a third of all pregnancies.

Rape at the hands of stepfathers, relatives and gang members is a key reason, rights groups say.

El Salvador also has a total ban on abortion, which is a crime under all circumstances including rape or a severely deformed fetus or when a woman's life is in danger.

"In El Salvador, the recommendation to postpone pregnancy is offensive to women and even more ridiculous in the context of strict abortion laws and high levels of sexual violence against girls and women," Roa said.

Sara Garcia, a reproductive rights activist in El Salvador, says the caution against pregnancy must be accompanied by public discussion of the causes of unwanted pregnancies.

"It's not simply about telling women not to get pregnant. There are pregnancies that aren't planned, are imposed on women and girls and are the product of sexual abuse," said Garcia, a member of the Citizens' Coalition for the Decriminalization of Abortion in El Salvador.

In El Salvador in 2013, the Supreme Court refused to allow an ill woman carrying a malformed fetus to have a potentially life-saving abortion in a case that sparked global outcry.

Women's rights campaigners also blamed the health ministry recommendations for failing to address the role of men.

"Once again, governments put the burden on women to protect themselves from any risks," said Paula Avila-Guillen, programs specialist at the US-based Center for Reproductive Rights.

Zika virus in New York

Three people in New York have tested positive for the Zika virus, which has been blamed for a surge in babies born with abnormally small heads in Latin America, city officials said Friday.

All three had travelled to areas outside the United States where the mosquito-borne ailment is spreading rapidly, the New York State Department of Health said, without specifying where.

Officials said one person has completely recovered, while the others are still getting better.

US health authorities earlier on Friday expanded a travel warning for pregnant women to avoid 22 places in Latin America and the Caribbean due to the Zika virus.
COMMENTS
Comments are moderated and generally will be posted if they are on-topic and not abusive.
For more information, please see our Comments FAQ