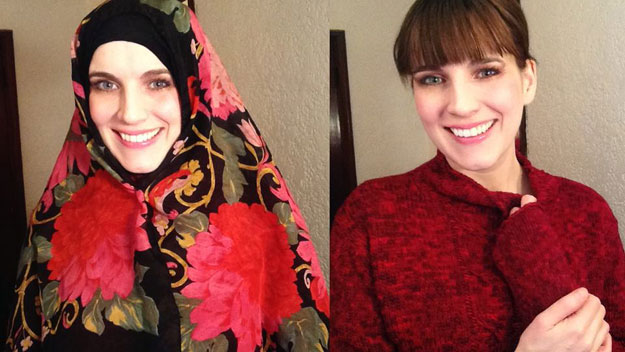 ---
A YouTube comedian created two near-identical profiles on Tinder - a Christian and a Muslim one - as a social experiment 'Muslim versus Christian on Tinder' to see users' reactions to each profile.

For the Muslim profile, Canadian comedian Davison donned a hijab (headscarf) whereas in the other one her head remains uncovered. She gave both profiles identical bios, naming them both Sara aged 27-years-old.

Dating app Tinder adds STD testing locator, ending feud with non-profit




Davison, who runs a YouTube channel for 'sexperiments' called LOLPervs, opened up the preferences to men ages 18 to 40 and began attempting to make matches. Interestingly, she did not mention her faith specifically in either of her profiles, letting people assume that her use of the floral headscarf would get the message across.

Woman defrauded by married man she met on Shaadi.com

"The test: how many matches does a woman dressed as a Muslim get compared to an implied Christian woman?" explained the description for her video.




After working through hundreds of swipes - 120 every 12 hours - and finding hundreds of matches, Davison found that 'Christian Sara' was the most popular of the two, despite initially noting that the 'interactions for both accounts were pretty standard' for the first 12 hours.

"Saturday night is when there started to be a wider discrepancy between the two Saras with 143 out of 240 matches for the Christian Sara versus only 100 out of 240 for the Muslim Sara,' she went on to explain.

Davison also notes that many of the men realised that there were two profiles by the name of Sara, with one even asking if she was "making an experiment", which led her to conclude that men did pay a lot more attention to women's profiles than many think.

Muslim men find multiple wives using Russian dating app

Overall, 'Muslim Sara' had a match rate of 44.6 per cent, or 214 matches out of 480 attempts, while 'Christian Sara' boasted a success rate of 63.8 per cent, or 300 matches out of 480 attempts.

However, the 'Muslim Sara' got more 'Superlikes' - a feature that allows users to see that another user likes them before swiping either way - than 'Christian Sara'.

Davison's experiment "fell apart" at this point when she found that her 'Muslim Sara' account had been 'blocked' on Tinder because too many people had reported the profile.




The comedian then emailed Tinder to try and get her profile reactivated, even suggesting that it was because of her 'faith' that the account was 'under review' in the first place.

Salaam Swipe app offers 'halal' dating for Muslims

"Can you please remove the block. I am worried it is because of my faith," she wrote in an email to the app's administrators, pointing out that she was a real person, including a link to a Facebook profile set up to go along with the account.




Davison further stated that she didn't believe she was the only person to suffer from what she saw as some kind of discrimination on the app, explaining, "Apparently it is not uncommon for people who do not conform to traditional gender identities to get their profiles flagged."

"I have no way of knowing if it's that users were angry because they saw I had two identical profiles, or if it had something to do with the fact that I was Muslim that I was banned, but I find it very interesting that until today, Tuesday, I have a fully functioning Christian Sara profile and a completely blocked Muslim profile," she added.

Shaadi.com launches initiative to tackle marital issues

Although, some found Davison's experiment "interesting", many dubbed it as "highly offensive".

"What's the point of doing this?" asked one frustrated viewer. "Muslim women have already gone through enough and this is just so patronising."

Comedian and co-founder and co-executive producer of the New York Arab-American Comedy Festival Maysoon Zayid commented on Davison's video in an interview with The Daily Dot, saying, "This is highly offensive."

She added that the hijab used in the video was 'cartoonish' and that Davison 'needs to check her privilege and find another hobby'.

Watch the video here:



This article originally appeared on Daily Mail
COMMENTS (9)
Comments are moderated and generally will be posted if they are on-topic and not abusive.
For more information, please see our Comments FAQ