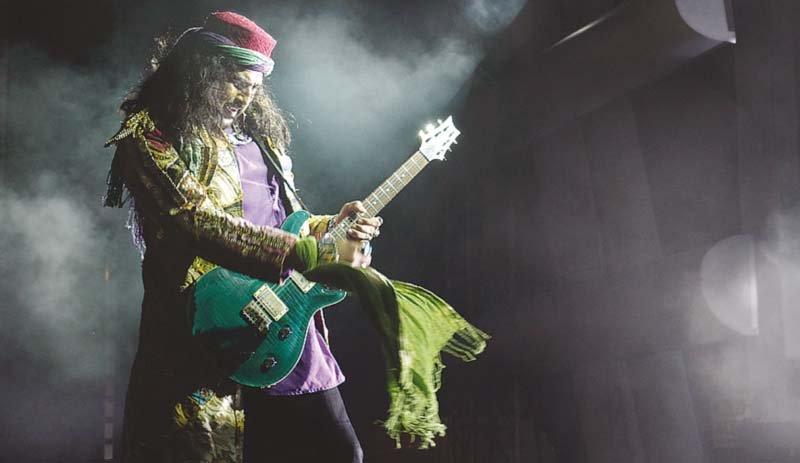 ---
KARACHI:



As a musician and UN Goodwill Ambassador for polio, it goes without saying that Salman Ahmad almost always has a great deal on his plate. The 52-year-old lead guitarist of pioneering Pakistani rock band, Junoon, is frequently heard of in the news, for his musical prowess or humanitarian efforts. This time around, however, he has come under the spotlight for a whole new reason: he will be soon be starring in an upcoming Bollywood movie, Rhythm.




Speaking with The Express Tribune, Salman confessed he had always thought himself to have the potential to act. "As a child growing up in Lahore, I used to watch the Bollywood films that were telecast on Doordarshan TV, with my mother and grandmother," he said. "In my heart, I just knew that one day, I would be in films myself. My mother used to laugh at me and say that no one in our family has ever played the guitar or acted in a movie before."

Would love to collaborate with Sajjad Ali: Zoe Viccaji




Interestingly, this is not the first time Salman's family has been approached by Bollywood. "My nana actually turned down a role before the Partition as he thought he would be compromising the name of the family." But as author Paulo Coelho once said, when you follow your heart, the entire universe conspires to make you succeed. Such was the case with Salman who happened to come across Rhythm by chance. "The director Vicky Kumar happens to be a Junooni. He met my wife Samina and me in New York and pitched an offer I simply couldn't refuse. It's because of Vicky's insistence that I have agreed to do this film."

Rhythm depicts the story of a rock band and the problems its members encounter through their lives. "It focuses on the band and its female lead singer's mistrust in love," shared Salman. "I play a rockstar cum guardian angel to her and it is through Junoon's music that she finds freedom and hope." The entire film has been shot in Poland and boasts of a both Indian and Pakistani crew. "I have contributed brand new songs to the movie. Its theme song, Yaaro, was recoreded with Sunidhi Chauhan in Mumbai," he added. "I really enjoyed working on this project. I hope that people of all generations enjoy the musical love story and appreciate Indo-Pak artists working together."

Junoon reunion not happening

The release of Rhythm in February coincides with the 25th anniversary of Junoon's music. Salman's plans for the year include another local film project, alongside Ali Zafar and Humayun Saeed. There is also a new, silver jubilee album being recorded at producer Shahi Hasan's studio, as part of the Junoon 25 celebrations. "The album features special guests like Ali Zafar, Strings, Outlandish, Peter Gabriel, Morten Harket, Shubha Mudgal, Sunidhi and more," shared Salman. "It has some of Junoon's golden hits as well. I am also in talks with AR Rahman — let's see what happens."

A point to note is that the silver jubilee celebrations will not see the legendary trio —  which gave evergreen hits like Sayonee and Yaar Bina —  reunite. But despite Ali Azmat's bleak assurances, Salman still hopes that someday, Junoon will come together again. "I have always seen the glass as half full, not half empty. Junoon's music is much bigger than any of its band members'," he said. "If someone doesn't want to come to the Junoon 25 party, we will celebrate it anyway. After all, qurbaani ki bahon mein milti hai azaadi."

Published in The Express Tribune, January 21st, 2016.

Like Life & Style on Facebook, follow @ETLifeandStyle on Twitter for the latest in fashion, gossip and entertainment.